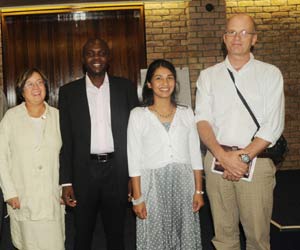 Asserting rights: Attending the launch of the PSC were (from left) Prof Marian Jacobs, Mulumba Moses, Roshan Galvaan and Francois Botha
Medical students witnessing unprofessional behaviour and even abuses of patient rights in health care facilities during their training has lead to the formation of the Professional Standards Committee (PSC), launched on 18 March.
The PSC will play a proactive as well as a reactive role. It aims to promote awareness of professional standards among staff and students, receiving complaints about alleged violations of professional behaviour, and supporting and advising those who speak out.
"Witnessing abuses may erode a student's own respect for professionalism and patient rights," said PSC chair, James Irlam "Recent research into these experiences highlighted the need for processes for reporting violations of professional standards."
The PSC will review all incident reports at monthly meetings, then give the alleged perpetrator an opportunity to respond. The next step will be to write a report for the dean of Health Sciences, including recommendations for an appropriate response by the dean. This report will also be made available to the complainant and the alleged perpetrator.
Also speaking at the launch was Mulumba Moses, a lawyer with a special interest in health rights from Uganda. Moses welcomed the formation of the PSC, and stressed the importance of creating awareness among patients as well as medical professionals on patient rights.
"In order for this committee to work, people must be aware of it," he said.
---
This work is licensed under a Creative Commons Attribution-NoDerivatives 4.0 International License.
Please view the republishing articles page for more information.
---