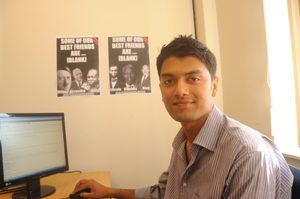 Although racial integration at UCT is more advanced that at some universities, it has not happened to a fully acceptable extent, according to the Students' Representative Council (SRC).
In residences, at Jammie steps and in food courts there are still 'black tables' and 'white tables', and students are still hanging out in racial cliques.
"Whether they are comfortable living like that is a different question, but certainly that does not promote reconciliation and integration," argues Saif Islam, SRC member responsible for transformation.
The current situation has prompted the student body to make racial integration an urgent goal, and recently they hosted a two-week campaign on the issue.
Among the events was a talk by Professor Crain Soudine, deputy vice-chancellor, and a screening of the New Generation documentary, which is about three musicians - a black man, a black woman and a white woman - who explore the past and the present of South Africa.
Islam said the aim of the campaign was to spark debate on identity and race around campus, to make students confident enough to talk about such issues.
"Obviously, 15 years into our democracy we cannot allow this [current situation]. At the same time we need to take a creative approach. No one should feel they are a racist [by being in a racial circle] or feel forced to make interracial friends. But we want to make them aware of race and racial issues. That is critical for our future campaigns."
Islam said integration is a difficult and sensitive issue, and called on students to take the initiative and not leave the matter to government and university management.
---
This work is licensed under a Creative Commons Attribution-NoDerivatives 4.0 International License.
Please view the republishing articles page for more information.
---