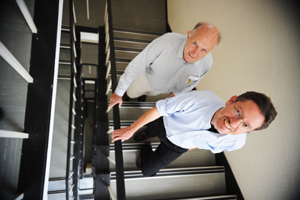 On the up: Assoc Profs Craig Comrie (left) and Steve Richardson are among the members of the UCTRF investment committee that keeps an eye on the ups and downs of the market.
Here's news that'll make sleep come a little easier at night - the UCT Retirement Fund (UCTRF), and in particular its market-related portfolio, has weathered the recent economic recession better than most.
That, explains Associate Professor Steve Richardson, chair of the UCTRF's investment committee, is partly because South African banks and markets hadn't been swept along with the housing-market bubble of the US, where mortgages and debt were wrapped up in new, ever-more-complex financial products that were spread far and wide through pension funds, hedge funds and international governments. Once that bubble burst, the ripple effect was felt globally.
Not entirely unscathed (hey, it's a globalised world), South Africa was spared the worst of the recession, however. "We were relatively protected," says Richardson.
So how did the UCTRF's portfolios fare on the market?
Portfolio A, also known as the Income Fund or, as it was once known, the Cash Fund, was the least affected, living up to its reputation as the safest place on the market because of the highly liquid nature of the financial products being traded. (Portfolio A earned 12.7% in 2008, and 9.5% in 2009.)
Portfolio B, aka the Smoothed Bonus Fund - the safe bet, as the investor's capital is protected - likewise did okay. The fund has a 'floor' of 0%, so even if there is some volatility on the market, the worst it could do was not earn any dividends in a particular period. (Portfolio B returned 7.2% in 2008 and 0.7% in 2009.)
Not so Portfolio C, of course, where earnings could occasionally dip into the negative as the fund follows the ebb and flow of the market. So, no surprise then that in 2008, when the ebb on the world's markets was particularly low, the fund earned a dividend of -2%.
That said, it was one of only three times over the 15 years or so since the UCTRF was established that Portfolio C had ran into the negative. Also, it bounced back with a "respectable" earnings of 17.5% in 2009, mirroring the recovery in the market.
By the way, that -2% is downright impressive in a market that bottomed out at around the -20% mark. (Also making Portfolio B's 0% earnings that much more reassuring.)
How come Portfolio C avoided the worst of the market's plunge? Well, the investment committee tries to offer some security for Portfolio C in the form of its investments, using value-focused managers at Allan Gray and Investec who take the long-term view when it comes to the market. (Just as investors in Portfolio C should, says Richardson, a geologist who understands a thing or two about long term.)
So, for example, these value-focused managers would buy some discount shares with promise and hang onto them for a while, waiting - patiently - for them to go up in value before selling them off again.
"It requires us to be courageous and patient - patient in particular - for the value to come out," says Richardson.
"In a bull market, they maybe don't do as well as others, but they do offer protection in a bear market," adds UCTRF's communication manager, Associate Professor Craig Comrie of the Department of Physics. "It's like buying a house - you don't check to see if it's changed in value every month."
It's a philosophy that's earned dividends. Over the UCTRF's lifetime, Portfolio C has been the best earner of the three portfolios, despite those three dips into the negative.
Luckily, UCT staffers appear to have taken the long-term view as well. As things stand, over R1 billion of the UCTRF's investments of R1.85 billion are in Portfolio C, compared to around R580 million in Portfolio B and some R250 million in Portfolio A. And it doesn't appear that too many jumped ship during the market's flutters.
And if you do jump, advises Comrie, make sure it's part of a long-term plan.
Portfolio D
Following ongoing requests from staff members, from 2010 UCT will offer UCT Retirement Fund (UCTRF) members a fourth investment option, one that follows the principles of Shari'ah law. Primarily adopted by Muslims - Muslim law forbids the charging of interest, known as usury - Shari'ah-compliant investments address a number of issues, notably around how interest is earned.
For the time being, the funds of UCT staff members who choose this option - to be known as Portfolio D - will be pooled with funds from other Shari'ah investors that are managed by a particular investment manager.
In the case of UCT, that would be 27four, founded by Fatima Vawda and named in honour of the day of South Africa's first democratic elections, 27 April 1994. The UCTRF encourages members to attend one of its roadshows to learn more about this investment option.
---
This work is licensed under a Creative Commons Attribution-NoDerivatives 4.0 International License.
Please view the republishing articles page for more information.
---