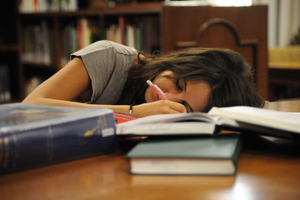 Having a nap clears the brain's short-term memory and helps make room for new facts to be remembered, scientists have claimed.
Research carried out by the University of California shows that people who have an afternoon nap may find it easier to learn in the afternoon.
The study found that people who nodded off for an hour after lunch performed better in learning tests than those who stayed awake all afternoon.
Matthew Walker, at the University of California, Berkeley, said: "Sleep not only rights the wrong of prolonged wakefulness but, at a neurocognitive level, it moves you beyond where you were before you took a nap."
Mr Walker's study examined two groups of students who were given learning tests at midday. One of the groups went for a nap two hours later, while the other group stayed awake.
After the nap, both groups returned and carried out tests, which showed that those who napped for an hour performed better than the group that stayed awake, and even scored better than they did in the first round of tests. Read more...
---
This work is licensed under a Creative Commons Attribution-NoDerivatives 4.0 International License.
Please view the republishing articles page for more information.
---