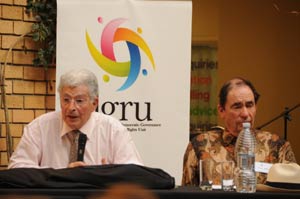 The right constitution: Judge Arthur Chaskalson and retired Judge Albie Sachs lead discussions at the first day of Constitution Week.
UCT's Democratic Governance and Rights Unit (DGRU) is hosting Constitution Week this week, a retrospective series of talks and discussions on the life and times of the Constitutional Court, which marked its 15th anniversary on 14 February.
That anniversary, plus the retirement in 2009 of four - Chief Justice Pius Langa, Justice Yvonne Mokgoro, Justice Kate O' Regan and Justice Albie Sachs - of the original eleven judges, makes this an ideal time for such a reflection.
Over the four days of Constitution Week, which runs from 22 to 25 February, delegates will look at the court's record up to now, and comment on the legacy of the retiring justices. The judges have stood up well to the enormous task before them, and have established the court as an internationally admired authority, says the DGRU's Vanja Karth. (A pity, though, she adds, that only one of the four new appointees is a woman.)
"The judges have shown themselves as capable of maintaining the court's independence, and having the courage to make controversial and unpopular rulings that often have upheld claims against other branches of government, ensuring that the separation of powers remains solid."
How they managed to do that that will be discussed over the week, with contributors to include retired judges, scholars and activists.
On Tuesday, panellists debated whether the court is able to hold high-profile public officials to account; on Wednesday, experts will comment on the performance of the public service in the constitutional era; and on Friday, speakers will look at the role that civil society has played in bringing landmark human-rights cases before the court.
Download programme of events.
---
This work is licensed under a Creative Commons Attribution-NoDerivatives 4.0 International License.
Please view the republishing articles page for more information.
---