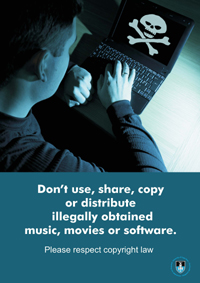 Last year, Varsity Newspaper caused the university a few tremors when it reported that there is widespread peer-to-peer file sharing of copyrighted materials on the UCT network.
As a recent memo from the registrar, Hugh Amoore, indicated, this exposes both UCT and those involved to risk of prosecution for breach of copyright. Amoore noted that UCT has a standing policy on copyright infringement (published in the university's Handbook No 3). Such infringement is grounds for disciplinary action, be it against students or staff.
Such file-sharing also places a load on the networks, which slows down legitimate network activity (and consumes bandwidth).
In response, UCT's Risk Management Committee has decided to bring the issue to the attention of students - the rules appear prominently in the 2010 student Handbook No 3, for example - and staff. UCT has also been registered as an ISP, as a first line of defence under the Electronic Communications and Transactions Act, 2002. A series of posters making the point that this is a form of piracy are being distributed on campus by Information and Communication Technology Services (ICTS).
While each case will be dealt with on its merit, ICTS will take steps against anyone found to be involved in peer-to-peer file sharing of unlicensed copyright material (eg movies, music or other media). These steps may include (but are not limited to) warning the user, referring the user for internal disciplinary action, or recommending prosecution.
It is expected that the outcome of such cases will be publicised around campus.
---
This work is licensed under a Creative Commons Attribution-NoDerivatives 4.0 International License.
Please view the republishing articles page for more information.
---