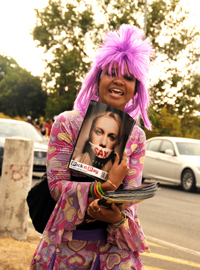 Street life: First-year students such as Diana Ocholla hit the city's streets in numbers to sell Sax Appeal, one of RAG's premier fund-raising events for beneficiaries SHAWCO.
Thanks to 2010 soccer world cup preparations countrywide, UCT's smorgasbord of student activities, orientations and registrations kicked off early this year, early enough for a formal start to lectures on 8 February.
Once again, applications for 2010 were substantially higher than previous years (19 444 'first-choice' undergraduate applicants, 2 041 honours, 2 986 master's and 299 doctoral applications), continuing the year-on-year trend. An interim report on admissions indicates that the hike in applications was accompanied by an increase in demand for financial aid and accommodation.
The Student Housing Admissions office received 13 579 applications from new undergraduate students. Of these, 2 800 were made offers.
Admission processes were under pressure as a result of the late release of the National Senior Certificate results (available to faculties only on 7 January). With an earlier-than-usual start to the year, UCT's faculties worked under huge pressure to complete their processes. Hats off to them.
Drum up: Some 600 semester-abroad students, mostly from the US, registered at UCT and enjoyed some African drumming as a fitting welcome. This welcome is now a tradition by the International Academic Programmes Office for the twice-yearly influx of international students, who spend about five months here.
Freshers Braai






Excess baggage: Residences opened to first-year students on 26 January. Here mom Yolande Damons helps her daughter Luchelle negotiate the route to
Tugwell Hall.
Swing out sister: Numerous student societies and clubs, such as the Ballroom Dancing Society, strutted their stuff during O-Week to canvass new members.






Lifelong learning: The annual Summer School which ran from 15 to 23 January celebrated its 60th anniversary this year.
---
This work is licensed under a Creative Commons Attribution-NoDerivatives 4.0 International License.
Please view the republishing articles page for more information.
---