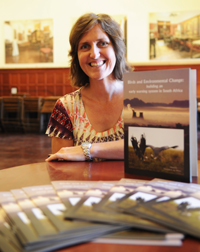 Dr Marienne de Villiers.
While climate-change predictions and modelling - essential for policy design - are as cutting-edge and sophisticated as they come, they remain, as their critics like to point out, flawed and full of holes.
Then why not turn to birds to help fill the gaps? In a 16-page illustrated booklet, Birds and Environmental Change: Building an early warning system in South Africa, scientists from the Animal Demography Unit (ADU) at UCT and the South African National Biodiversity Institute (SANBI) describe how bird monitoring and research can provide telling warning signs of the impacts of climate change.
Keep an eye, for example, on the correlation between reproduction rates of the blue crane Anthropoides paradiseus and rainfall in the Nama Karoo region - the better the rain, the better the fledglings' chances of survival. On the flip side, drier weather around Cape Town could spell a rosier future for the peregrine falcons Falco peregrines, so watch their numbers.
And because spring arrives earlier in Eurasia than it used to, it's been noted that barn swallows Hirundo rustica now leave South Africa 11 days earlier on their seasonal breeding migration than they did a decade and a half ago.
Many of the findings in the booklet are based on data collected for scientific programmes by trained members of the public.
"In SA (and elsewhere in the world), there are plenty of enthusiastic and knowledgeable members of the public who spend much of their leisure time birding," says editor Dr Marienne de Villiers of the ADU. "There is thus a large and willing 'workforce' of people who can help collect data on birds - perhaps more so than for any other faunal group."
"Birds are certainly not the only group of species affected by global change, nor even the most affected," write SANBI's Guy Midgley and Phoebe Barnard in their introduction. "But they are certainly among the most visible and evocative to us as a society, and are thus an important window into the broader changes in ecosystems."
While the contributors admit that not enough is known to put all the trends in bird populations and distributions described in the booklet down to climate change, the long-term data should be enough to set alarm bells ringing.
---
This work is licensed under a Creative Commons Attribution-NoDerivatives 4.0 International License.
Please view the republishing articles page for more information.
---