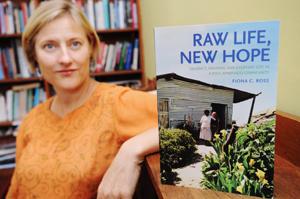 Ordentlikheid: In her new book, Assoc Prof Fiona Ross explores a community's quest for decency amid poverty.
Raw Life, New Hope: Decency, housing and everyday life in a post-apartheid community, by Associate Professor Fiona Ross of the Department of Social Anthropology, doesn't skimp on the scholarly rigour.
But it's also the kind of book that Ross wants the lay reader and occasional book club to pick up between the Austens and travelogues. So, in telling the fly-on-the-wall story, chronicled over 13 years, of the residents of local shantytown The Park, Ross has tried to capture the little details of life in the community that illustrate how people create meaning in their lives.
Tucked between the erudite explorations of stock anthropological themes - households, relationships, violence (a leitmotif in Ross' work), language, storytelling, disease, the body - are a series of chapter breaks that capture the everyday: recipes, maps, and photos of ceremonies, celebrations, and - the source of hope - the move into new houses.
Before then, The Park (formed back in the mid-1980s, and also known descriptively as The Bush) was a makeshift settlement on the outskirts of Cape Town, where homeless people lived in the bush or in shacks. Then came the promise of a better life when, from 2001 onwards, residents were moved to a formal housing project known as The Village, a public/private partnership.
"When the possibility arose of getting homes, that whole discourse of becoming ordentlike mense [decent people] surfaced in an almost visceral and very powerful way," says Ross. "People had this concept that because they lived in shacks they weren't ordentlik, and the houses were somehow going to enable them to live up to their ideals."
In Raw Life, New Hope, published by UCT Press, Ross takes a hard look - "in a very gentle way" - at this conviction that an "aesthetic intervention" such as (in this case) a house would turn their lives around. What followed instead was disillusionment, as the community was beset by the usual gallery of social ills of such impoverished areas, notably violence (domestic and otherwise) and substance abuse.
But in this wasteland of hardship, many still labour for a sense of decency.
"So the book grapples with what ordentlikheid [decency] means in a context where it's underscored by material poverty."
And the recipes and photos and the nuggets of community colour?
"It's to try and give a real sense of what everyday life is like," says Ross, "and that it's not all doom and gloom."
---
This work is licensed under a Creative Commons Attribution-NoDerivatives 4.0 International License.
Please view the republishing articles page for more information.
---