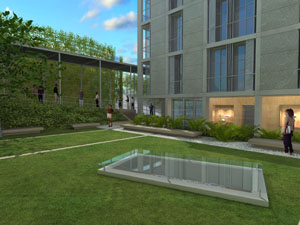 Remembering: An architect's impression of the proposed garden of remembrance and (above) the interpretation centre (lit-up area) that would make up the memorials of the Rustenburg burial site on middle campus.
It's taken around a year and a half of debate and negotiation, but proposed memorials on the Rustenburg Burial Ground site adjacent to the new School of Economics building on middle campus would suggest that UCT's public consultation process is going well.
At the latest meeting of the Stakeholder Forum on Saturday 14 November, Van der Merwe Miszewski Architects (VDMMA) presented ideas for these memorials, as proposed by a Stakeholder Working Group.
The memorials would be made up of a garden of remembrance and an interpretation space or gallery associated with the new Economics Building.
These commemorative ideas are based on detailed proposals from the stakeholders, including UCT, the City of Cape Town, and interested individuals and representatives from community groups such as the Cape Family Research Forum and the Khoe & San Active Awareness Group.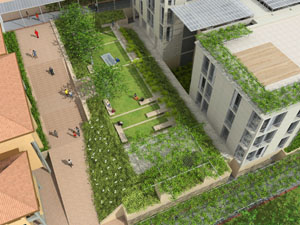 The site is believed to be the final resting place of slaves who worked the Rustenburg farms along the Liesbeeck River in the 17th and 18th centuries, among others. The cemetery lies right next to the new building that is currently under construction, and underneath All Africa House.
The proposed memorials would reflect the elegance and simplicity of the original burial site, said VDMMA's Anya van der Merwe, who is also an adjunct professor in UCT's School of Architecture, Planning & Geomatics. A glass-covered trench would hold the garden's centrepiece, a fragment of the cemetery's wall that was recovered in the archaeological digs at the site. (See illustrations.)
"We designed the space in such a way that it's not something that's stuck away," said Van der Merwe, "that it is a space that is passed by and reflected on and looked onto by students."
The proposals will now go up for further public debate, while UCT looks into how it will fund the memorials, as they were not part of the project's initial budget. In addition, there's a string of other issues still up in the air, including the governance of the site.
But Professor Crain Soudien, acting deputy vice-chancellor for transformation, reported that UCT will be looking into ways to address these matters and make the site happen.
"In the end, this is going to be too important to remain only a concept," he said.
---
This work is licensed under a Creative Commons Attribution-NoDerivatives 4.0 International License.
Please view the republishing articles page for more information.
---