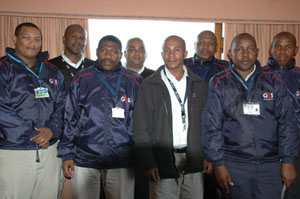 The winning team: CPS officers Grant de Monk, CCTV manager Warren Williams, Xolisa Kula, Bernard Soules, Gary Dyssel, Eric Magangxa, Luzuko Tsoli and Soyiso Nyembezi were rewarded for their excellent performance.
Gary Dyssel was so concerned about the high crime rate in his Elsies River community that he wanted to be part of a process that would change that.
Six years ago he joined the Campus Protection Services at UCT as a crime prevention officer for the G4S Security Company, and has since done more than his share of crime-fighting duty.
His acts of courage were recognised on 11 November when UCT presented him and several of his colleagues with cash awards, as tokens of appreciation for their commitment in fighting crime on campus.
The other recipients were Bernard Soules, Morney Speelman, Shane van Rheede, Eric Magangxa, Grant de Monk, Xolisa Kula, Luzuko Tsoli, Soyiso Nyembezi and Mandla Zuma.
It was the second time that Dyssel, now CPS's crime prevention manager on campus, has been recognised. This time he was honoured for his involvement in the arrests of car thieves in two separate incidents, and for the arrest of a cable theft suspect.
Preventing crime at UCT needs diplomacy, Dyssel said. The university is an open campus and it is difficult to distinguish between students and outsiders.
"For instance, in the cable theft incident the suspect was carrying a school bag, and looked like any student."
But after a closer look, Dyssel realised that the suspect was carrying heavy objects that did not look like books. He then chased and arrested him. Copper cables weighing 5.4kg, as well as a knife, a screwdriver, pliers and a cutter were seized.
Crime prevention presents different challenges every day, and Dyssel and his colleagues must always be prepared.
Fighting crime also has weird moments.
In one instance, a laptop thief unintentionally revealed his whereabouts when he plugged in and used the machine in a friend's room, registering it with the ICTS system in the process.
"Based on that information, we managed to track him down."
John Critien, executive director for the Properties & Services Department, said the awards were proof that UCT has been successful in curbing crime.
He thanked the "servants of the students", as he described security officers, for going the extra mile to ensure that the university community remains safe.
---
This work is licensed under a Creative Commons Attribution-NoDerivatives 4.0 International License.
Please view the republishing articles page for more information.
---