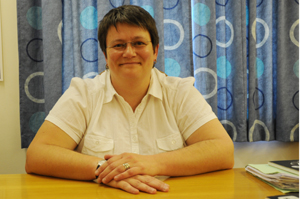 Prof Vanessa Burch
Bringing clinicians to her lectures, basing teaching on best practices and using accessible learning material are teaching techniques that have earned UCT's Professor Vanessa Burch a top accolade.
Burch, who holds the chair in clinical medicine in the Department of Medicine, received the 2009 National Excellence in Teaching and Learning Award from the Council for Higher Education and the Higher Education Learning and Teaching Association of Southern Africa.
Teaching is an often overlooked part of an academic's life, notes Burch, winner of a UCT Distinguished Teacher Award in 2004.
"I believe the award is an important step in the right direction, because teaching excellence needs to be rewarded in the same manner as research excellence."
The honour is bestowed on educators working in tertiary institutions, to support excellence in teaching and learning in the sector and to generate academics who are able to provide leadership in teaching in their disciplines, institutions and regions. The award is also offered as a means of generating debate and public awareness about the ingredients of teaching excellence.
"This award required excellence in both teaching and education-related research, and as such, closes the gap between the two critical domains that form the pillars of higher education."
Burch bases her own teaching on the philosophy that teachers should teach from the perspective of their students, and that teaching should take place in real workplace settings.
"Medicine is essentially an apprenticeship, and I strive to be a role model as well as an educator," she added.
---
This work is licensed under a Creative Commons Attribution-NoDerivatives 4.0 International License.
Please view the republishing articles page for more information.
---