The world will miss its agreed targets to stem biodiversity loss by 2010, and the oceans' ecosystems are most vulnerable.
This was the bleak scenario sketched in an opening press release from the Second Diversitas Open Science Conference, which brought together 600 scientists from around the world in Cape Town from 13 to 16 October.
The 2010 goal was set at the 6th Conference of Parties to the United Nations (UN) Convention on Biological Diversity, back in April 2003, when some 123 world ministers committed to achieving a significant reduction in the current rate of biodiversity loss by 2010.
Alas - it was not to be.
"We are losing species 100 times faster than new ones are being generated," reported Dr Bob Scholes, ecologist at the Council for Scientific and Industrial Research, and one of the local organisers of the Cape Town event.
Nowhere is this loss more telling than in the world's oceans. At the launch of UNEP's latest report, the readable and fact-packed Blue Carbon: The Role of Health Oceans in Binding Carbon, co-author Emily Corcoran explained that the ocean's role as a 'blue carbon' sink - to soak up and store both biological carbon, aka green carbon, and excess brown or black carbon, for example greenhouse gases such as carbon dioxide - goes largely unsung.
What's troubling is that marine ecosystems are disappearing faster than any other ecosystem on the planet, even rainforests.
But this is no time to throw in the towel, said Achim Steiner, UN undersecretary-general and executive director of the UN Environment Programme. "Everyone in this room knows that acceptance of this [biodiversity loss] is no strategy at all."
So, much of the conference was dedicated to filling the knowledge gaps in the hard science, be it debating biofuels or the genetic drivers of biodiversity, or tweaking predictive climate models. But whether or not the data will be translated into action is another issue, says Professor Graeme Cumming, who holds the UCT Pasvolsky Chair of Conservation Biology, and was also part of the local organising committee.
"There are lots of people working very hard to obtain information that's relevant to solving the problems, and there are lots of people starting or trying to start different initiatives to reduce the rate of biodiversity loss," says Cumming. "The big question, really, is whether that all feeds into policy at the governmental level, and ultimately into action."
West points the way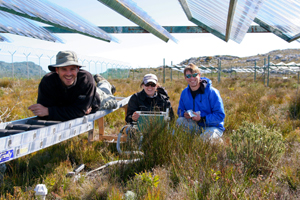 In picture are West and colleagues Christina Moseley and Peter Hagen. (Photo by Rob Skelton.)
With so much uncertainty about the exact consequences of global warming over the next couple of decades, Dr Adam West's study - which earned him the Francesco Di Castri prize for best oral presentation by a young scientist at Diversitas OS2 - provides a useful glimpse.
In 2007, West, a postdoctoral fellow at UCT and the University of California, Berkeley, erected a cluster of canopies over a bed of fynbos in the Silvermine Nature Reserve, letting light in but keeping the rain out.
The aim of this drought-simulating exercise was to measure the impact of climate change on the Western Cape's unique floral heritage. The results, now coming in, are "pretty interesting", explains West, who takes up a lectureship at UCT's Department of Botany in 2010.
They provide some evidence of how highly biodiverse ecosystems might respond to drought, a possible outcome of altered climate. West's findings can also feed into models that could be applied to ecosystems across the globe.
---
This work is licensed under a Creative Commons Attribution-NoDerivatives 4.0 International License.
Please view the republishing articles page for more information.
---