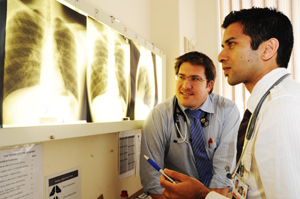 Discoveries: With new funding, Dr Greg Symons (left) and Dr Hoosain Khalfey are pursuing studies into the nature and causes of lung infections.
Thanks to their new Discovery Foundation Academic Fellowships, Dr Hoosain Khalfey and Dr Greg Symons have the funding to continue their potentially ground-breaking studies of lung infections over the next two years.
Khalfey and Symons are both senior registrars at UCT's Department of Medicine and the Respiratory Clinic at Groote Schuur Hospital.
Khalfey's research is twofold. Firstly, he hopes to shed some light on the most common causes of lung infections among HIV-positive patients. More specifically, he will look into the use of early bronchoscopies on HIV-positive patients with lung infections in an attempt to achieve a "definitive and rapid diagnosis" of such patients, who often pose a diagnostic conundrum for clinicians.
His second study will investigate the use of steroids as a parallel treatment for severe community-acquired pneumonia. Conflicting evidence exists as to the value of steroids in treating pneumonia, says Khalfey; which creates an excellent opportunity for further research, the results of which may significantly alter the way pneumonia is managed at present.
In turn, Symons' study deals with extensively drug-resistant tuberculosis (XDR TB), in which the TB is resistant to at least four drugs. Symons will look at the extent and severity of such drug resistance, which will include running a database of identified cases in the Cape Town metropole, now totalling 220 patients.
Symons will follow up with these patients in an attempt to get a handle on the disease and patients' responses to the current 18-month drug regime. (Only about 10% of patients are believed to recover.).
While XDR TB occurs across the globe, there are many unknowns, says Symons, such as its causes, and the post-hospitalisation experience of the other 90% of the patients, who are released after six months in hospital but must continue their treatment.
"We don't know what happens to them," he says.
---
This work is licensed under a Creative Commons Attribution-NoDerivatives 4.0 International License.
Please view the republishing articles page for more information.
---