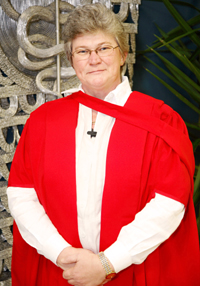 Community minded: Prof Di McIntyre (School of Public Health and Family Medicine) is one of three winners of UCT's new Social Responsiveness Awards.
Projects on disaster mitigation, gender violence and healthcare financing have won UCT's first Social Responsiveness Awards.
The winners are Dr Lillian Artz, director of the Gender, Health and Justice Research Unit; Dr Ailsa Holloway, director of the Disaster Mitigation for Sustainable Livelihood Programme (DiMP); and Professor Di Mcintyre, of the School of Public Health and Family Medicine.
"The winners of the Social Responsiveness Award were chosen from a large and very strong field, so much so that the selection committee felt that for this first year of the award at least, it was impossible to identify one single recipient," said deputy vice-chancellor Professor Jo Beall. "The three winning nominations illustrate research, teaching and civic engagement that benefits both external constituencies and enhances UCT's reputation."
Founded by Artz in 2004, UCT's Gender, Health and Justice Research Unit in the Faculty of Health Sciences tackles the high levels of violence against women in South Africa.
Collaborating with NGOs and regularly commissioned by the government, the unit's progressive research is used for evidence-based advocacy for women's rights.
Recently, a number of research and advocacy projects were undertaken to guide the law reform process on sexual offences.
With an impressive publication record, the unit has earned an international reputation and is consulted regularly by international organisations.
Holloway's commitment to socially relevant research has led DiMP's exploration into poorly understood disaster risks, such as informal fires, urban floods and severe storms. Since its formation in 1998, DiMP has developed into an institutional platform that generates new knowledge in the emerging field of disaster management science.
Holloway served as a technical adviser during parliamentary deliberations on the Disaster Management Bill, and co-ordinated the drafting of the National Disaster Management Framework. The resulting reform of disaster management legislation strengthened UCT's social engagement in the disasters domain.
As well as her professorship at UCT's School of Public Health and Family Medicine, McIntyre holds the South African research chair in health and wealth, and is the founder of the Health Economics Unit, where she served as director for 13 years.
McIntyre's involvement in health care financing issues requires a combined role of academic and activist. She has served on many policy committees, such as the 1994 Health Care Finance Advisory Committee, where her input led to the removal of user fees at public sector primary health care facilities.
Most recently, McIntyre's engagement in the current debate on National Health Insurance, through workshops, opinion editorials and media interviews, has contributed to a better understanding of the complexities of financing a national health scheme. This role as a public intellectual has enhanced the university's engagement with national, continental and international challenges.
The awards are a part of UCT's Senate- and Council-approved Social Responsiveness Policy, adopted in 2008, which is aimed at encouraging an "enabling environment" for social responsiveness at the university.
---
This work is licensed under a Creative Commons Attribution-NoDerivatives 4.0 International License.
Please view the republishing articles page for more information.
---