Jonathan Jansen
The Free State ANC has come down hard on the University of the Free State's decision to withdraw its charges against four students who created a racial furore at the university in 2008. Neither UFS rector Jonathan Jansen (left), who announced the reconciliatory decision at his inauguration last week, nor the university could speak on behalf of the victims in the name of so-called reconciliation, the ANC said in a statement.
Despite earlier reports to the contrary, athlete Caster Semenya has said she's primed and ready to write her first-year university examinations at the University of Pretoria, where she is a sports science student.
Stellenbosch University's transformation plan, Vision 2015 - aiming for 15% black staff and 34% percent black, coloured and Indian undergraduate students by 2015 - "leaves much to be desired", according to Parliament's portfolio committee on higher education and training.
A student was hit above the eye by a rubber bullet during a protest at the Mangosuthu University of Technology in Umlazi, KwaZulu-Natal.
About R2.3m dedicated to a three-year programme to strengthen 12 of SA's rural further education and training (FET) colleges in Limpopo, Mpumalanga and the Northern Cape would be used for labour market research to better align college education with market needs, Higher Education and Training Minister Blade Nzimande has said. Nzimande has promised to increase FET enrolment from about 400 000 to one million by 2015, despite concerns about poor exam results.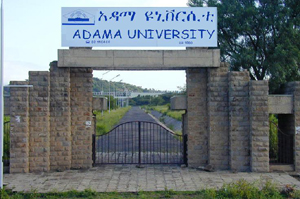 Ethiopia's Adama University (left) has launched its first self-developed, campus-wide eLearning environment at the university. Until just recently, the campus had only five PCs, connected with a very slow line, for nearly 6 500 students, but that number has now grown to over 600 computers.
A This Day correspondent was attacked and injured while covering the protest of staff unions against Lagos State University's vice-chancellor, Professor Lateef Hussein.
Following previous delays and crises, Nigeria's Education Minister, Dr Sam Egwu, has ordered the Governing Council of the University of Benin to appoint a substantive vice-chancellor within six weeks.
Even though tuition and fees in the US increased in 2008, the amount students borrowed in private loans declined by almost 50%, according to the first widely-accepted estimate of that drop. A significant reduction in loans was expected because of the turbulence in the credit markets.
New York University will open a campus in Abu Dhabi, in the United Arab Emirates, one of a growing number of American universities opening branches in the oil-rich region.
Social scientist Kian Tajbakhsh, an academic who holds both American and Iranian citizenship, was sentenced to more than 12 years in prison by a court in Tehran for fomenting unrest against the Iranian government.
---
This work is licensed under a Creative Commons Attribution-NoDerivatives 4.0 International License.
Please view the republishing articles page for more information.
---