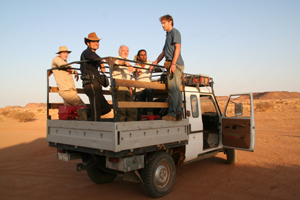 Moving forward: Ralph Schroeder, Christopher Held, Prof Heinz Rüther, Roshan Bhurtha and Stephen Wessels at work on the Musawwarat es-Sufra temple site in Sudan.
A glance at Emeritus Professor Heinz Rüther's wall diary tells you straight away that he travels a bit.
Tucked in between the local and national talks and meetings, there are - marked in bold red - 10- to 14-day stretches in Kenya, Mozambique, Sudan and Tanzania. And a little further afield, Kyoto.
The Africa-trotting is all in aid of the Zamani Project - the African Cultural Heritage Sites and Landscapes Database, conceived and run by Rüther from the School of Architecture, Planning and Geomatics. In short, the database holds spatial, geographic and photographic information - collected by Rüther and his four scientific officers via laser scanning, conventional surveys, GPS, traditional photography and photogrammetric imaging - of heritage sites and structures across the continent.
This information is then used to compile information-rich geographic information systems, faithful 3D computer models, maps and building plans of these hardly-seen sites.
"The idea was to create an integrated database of African heritage, where we take a holistic approach," says Rüther.
Among the project's eye-catching productions is a computer-generated video, found at the World Monument Fund's (WMF) website, which allows the armchair traveller to take a virtual tour through the historic rock-hewn churches - each carved out of volcanic tuff - of Lalibela, Ethiopia.
"This is stuff most people have never seen," says Rüther proudly, as he plays the video.
The team is working on such educational eye-candy for all 25 sites it has visited in nine African countries. These include the Musawwarat temple complex in Sudan, rock art sites in the Drakensberg here in South Africa, and the Great Mosque of Djenné in Mali.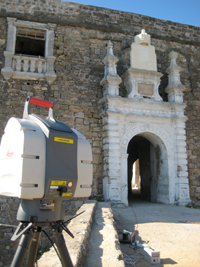 The team's laser scanner outside the St Sebastian fortress in Mozambique.
Initially, the project had only research and educational objectives, explains Rüther. But, just as he had hoped, the database is now also being put to good use in conservation work, such as that of the WMF and the United Nations Educational, Scientific and Cultural Organisation (UNESCO) at Lalibela, the UNESCO initiative on the St Sebastian fortress in Mozambique, and the Getty Conservation Institute's project in the Valley of the Queens in Luxor, Egypt.
Pleased though he is, Rüther has bigger aims for the project.
Beyond providing information - detailed and pretty as it is - he'd like the data to be used for actual site management, tourism planning and further conservation enterprises. And to extend its reach beyond Africa, perhaps mapping the slave routes into the Americas and elsewhere.
But there's enough hard work ahead for him and his "brilliant and dedicated" team - Roshan Bhurtha, Christopher Held, Ralph Schroeder and Stephen Wessels. Thanks to funding from the Mellon Foundation, the team has at least six more sites to visit over the next three years. Rüther is hoping to source further funding to document additional sites.
The work is no walk in the park. Team members haul pricey equipment to remote locales and toil for long hours in often trying conditions, all the while negotiating their way through power problems, equipment failures, goggas, suspicious locals (the word 'laser' evokes all kinds of ideas in people's heads, notes Rüther), red tape, rapacious officials and, when their constitutions don't agree with the local cuisine, upset stomachs.
"It's hard sometimes," sums up Bhurtha.
And the labour's not done when they return to their cramped offices at UCT, which they share with student volunteers from Germany. Each on-site day demands five to 10 days of processing.
"We're very lucky that we get to go out to sites in some hard-to-reach places, collect the data and then get back to process the data," says Wessels. "For most people, it's either one or the other."
With the evergreen Rüther leading from the front - notwithstanding a bandaged toe he broke playing with his dog - for, he plans, at least another five or six years, there's plenty more good times ahead.
---
This work is licensed under a Creative Commons Attribution-NoDerivatives 4.0 International License.
Please view the republishing articles page for more information.
---