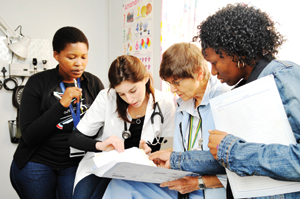 (From left) Interpreter Ezzy Zozi, health sciences student Raphaella Stander, senior lecturer Dr Biddy Buchanan-Lee, and interpreter Khanyisa Ntwana at work in the SHAWCO mobile clinic being used for clinical skills training in Khayelitsha Site B.
A symbiotic relationship between SHAWCO (the Students' Health and Welfare Centres Organisation) and the health sciences faculty is providing clinical-skills training for scores of medical students. Through a combination of strengths and resources, this partnership ensures invaluable training for future doctors, and essential services to those in the heart of poor communities.
Nestled within the bustling CBD off Bonga Drive, Khayelitsha, the Site B Community Health Centre provides essential health care to thousands of residents on the Cape Flats. It is within the walls of this hospital that UCT's medical students get their first real exposure to community clinics.
Under the hands-on guidance of Dr Biddy Buchanan-Lee and her two assistants, Ezzy Zozi and Khanyisa Ntwana, fourth-year students manage patients with chronic diseases such as diabetes and hypertension, make casts in the plaster of paris room, learn the process behind X-rays, assist in HIV clinics and provide support in the Trauma Centre.
'Serve and Learn' is Buchanan-Lee's motto, invented "oh, some years ago". With a BSc from UCT (she did her medical training at Cambridge and Newcastle University), she's worked in Khayelitsha for 12 years - and she's a "big fan" of community service. Although Khayelitsha falls under Tygerberg's jurisdiction technically, Buchanan-Lee has remained committed to hosting a UCT learning platform in Site B as she believes that this is the coalface: where real service and real learning can take place.
"It's essential to train them [the students] in the sort of environment they have to work in," she says.
Students are taught to look for what they can change to help patients, to ensure that each patient they see leaves the clinic with their condition fully investigated, with knowledge about their medical condition and a future plan of management.
Students also learn to manage with limited resources.
"You have to think laterally out here, every day," says Buchanan-Lee.
Such is her belief in this experience that, when her teaching space came under threat in 2008, instead of just packing it all up, she dug in her heels, took her own advice, and got creative ...
Health care on the move
On Wednesday nights, just a few roads down in Town 2 Khayelitsha, a massive truck with a red cross makes its way to the Zibonele Clinic. This is one of SHAWCO's mobile clinics, which has been serving the people of Khayelitsha since it had an active watch-tower and a small population of 10 000. For 66 years now, SHAWCO Health students from UCT have provided essential clinical services to various disadvantaged communities across the Cape Metropole. Zibonele is just one of the six weekly evening clinics currently run by SHAWCO Health students, with an additional monthly paediatric clinic on Saturday mornings. In 2008, around 500 students treated over 4 200 patients in the Cape communities. The clinics are run after hours: the students work in the hospitals during the daytime.
"We have been very fortunate to have received generous sponsorship from GrandWest CSI," says Thandi de Wit, SHAWCO Health's President for 2009. "They funded the building of a new state-of-the-art clinic, as well as the refurbishment of our two longest-surviving trucks. While we certainly make good use of them after hours, it seemed a waste for them to be standing empty and unused for long periods during the day. So, when UCT approached us with a request to help solve a space problem, we were only too happy to help in any way we could."
And so began a new partnership between SHAWCO and UCT.
Big Mama is a boon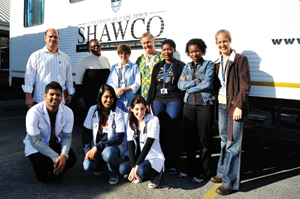 Members of the SHAWCO and health sciences teams include (front, from left) students Nieleshen Govender, Leah Naidoo and Raphaella Stander. (Back, from left) Manager of HIV unit, Dr Shaheed Mathee, Mrs Notshe, Dr Biddy Buchanan-Lee, Frank Molteno, interpreters Ezzy Zozi and Khanyisa Ntwana, and SHAWCO Health Mentor Wendy Lewin.
The solution to Buchanan-Lee's space problem was "Big Mama" - SHAWCO's newest (and biggest) clinic. The hospital management has been most accommodating and supportive - allowing her to occupy a large area within the hospital parking area. With four separate consultation rooms, Big Mama has been a boon to the CHC. It's a win-win-win situation in which SHAWCO's big mobile clinics, used by their volunteers to provide medical services by night, double up as sites for the assessment and management of patients with chronic diseases by day.
Now, not only is there no space crisis, but Buchanan-Lee has been able to make rooms available to Dr Shaheed Mathee, who uses the space to run an HIV clinic and, in the process, provide further training for the students.
Big Mama's older, yet smaller 'brother' has since been deployed to provide much-needed teaching space for the sixth-year Family Medicine programme at Hanover Park CHC, while the third mobile, having been used by Dr Shahieda Adams for research into TB in Delft, will soon find a new parking place outside Mitchell's Plain CHC - also for the sixth-year Family Medicine Programme.
"We are thrilled with this arrangement," says De Wit. "SHAWCO Health has always been about improving the health of our communities in any way we can. We are excited about what meaningful partnerships such as this one can do for our communities."
Buchanan-Lee adds: "We in Khayelitsha share a vision with SHAWCO. We both care deeply about the community... If it were not for the generosity of SHAWCO we would have difficulty in remaining in Khayelitsha and providing this service, and our students would not have the experience of working in circumstances close to what awaits them when they do their community service."
---
This work is licensed under a Creative Commons Attribution-NoDerivatives 4.0 International License.
Please view the republishing articles page for more information.
---