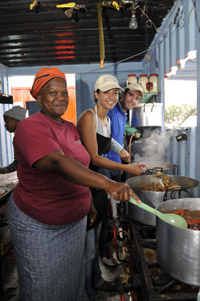 Business partners: Nozibele Mkefa has been sharing knowledge with French students Nathalie Beugé and Joffrey Hintze.
When Nathalie Beugé and Joffrey Hintze arrived in South Africa from France last month, they had no clue how businesses are run in Africa, let alone how informal entrepreneurs in local townships go about their business.
Having worked for Nozibele Mkefa in her restaurant at the Nyanga taxi rank for the past five weeks, the students from the Business School of Amiens in France have gleaned not just invaluable insights, but have also picked up some kitchen skills, and can now cook and serve traditional African dishes.
In turn, Mkefa said their presence has attracted more customers, with some even insisting that they be served by the duo. Beugé and Hintze have also organised funds to improve Mkefa's business by building a shelter and adding more tables and chairs.
Beugé and Hintze are two of the many international students that are part of SHAWCO's international programme, which pairs international students with small businesses in the Western Cape.
SHAWCO's executive director, Varkey George, says this is a "win-win" situation as small businesses are growing while the international universities are benefiting from the service-learning programme.
The programme, which has drawn some 100 international students already, also raises funds for SHAWCO's many community projects.
"SHAWCO's been inundated with requests from universities abroad to be part of this programme," reports George.
---
This work is licensed under a Creative Commons Attribution-NoDerivatives 4.0 International License.
Please view the republishing articles page for more information.
---