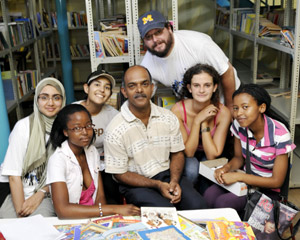 Making a difference: SHAWCO's Varkey George (centre) and Jonathan Hoffenberg (at back) with student volunteers, from left, Masouda Rahim, Precious Peter, Shahanah Surty, Rebecca Metz and Mabea Mashiane at the organisation's Saturday School in Khayelitsha.
Every Saturday morning, while many kids sleep in, scores of others in Khayelitsha, Manenberg, Nyanga and Kensington are opening their schoolbooks.
They're in classrooms with tutors from UCT, students who've volunteered their time and talents to SHAWCO (Students' Health and Welfare Centres Organisation).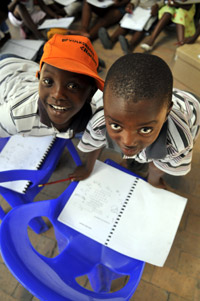 SHAWCO has provided medical and social services to these communities for more than seven decades. But only in the past decade has their focus shifted from the soup kitchen-social services image to youth development, "Education is the new focus," said executive director Varkey George.
George has been the driver of SHAWCO's singularly successful transformation, after taking the reins in 2004. Towards the end of 2003, storm clouds were brewing over the organisation, which ran over 20 outreach projects in these communities, including five mobile clinics.
Around R1-million in the red, the organisation was in deep trouble. It then appointed George, who had led the Wits Rural Facility at Wits University out of its financial woes, as its new executive director.
It has been the hallmark of George's administration that new projects have been launched with specific goals in mind.
"We took a holistic look at the lives of the children,' George said. In addition to core school subjects to boost academic skills, students offer extra curricula sports and art classes, IT training and leadership skills.
The younger pupils get help with English and maths, and as they progress, biology, science, information technology and other subjects are added at senior grades.
With education in a declining state, Jon Hodgson, student president of SHAWCO's education sector, said UCT students are well placed to assist.
"We're harnessing the capacity UCT has to benefit local communities."
The aim is to prepare pupils for matric and then tertiary studies. They are recruited for that purpose, their parents paying a nominal R20 for the service. They also sign an agreement, necessary "buy-in" to enlist support and reduce drop-out rates.
"We're not looking for A and B aggregate pupils. We're looking for potential," Hodgson said.
"We also teach them skills that will make the employable and responsible."
It's an all-round education model, Hodgson explains.
Most of the student recruitment takes place in O Week.
"We're picky," Hodgson concedes.
Afterwards they're interviewed for suitability. Already 850 students (SHAWCO has 1 200 student volunteers) are involved in these communities. All that's required is three hours of their week.
The demand is growing. Parents have been begging the organisation to expand. In Khayelitsha alone the education initiative has made space for 10 additional pupils in each of the four classes.
For more information about SHAWCO click here
---
This work is licensed under a Creative Commons Attribution-NoDerivatives 4.0 International License.
Please view the republishing articles page for more information.
---