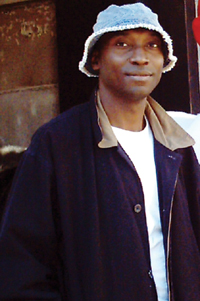 "The process involved in being a postdoc has been revealing, and I continue to grow academically." - Dr Kambidima Wotela.
University of Zambia graduate and demographer Dr Kambidima Wotela's academic career has been an uphill battle, he says. From his cohort, the school sent only one pupil to university in three years. This shouldn't be mistaken for intelligence on his part, he quips, but hard work coupled with sacrifice.
"Coming to UCT was by default. I'd wanted to study for my PhD at the University of Pretoria, so that I could easily commute between Lusaka and Pretoria. While pursuing my application, I met Professor Rob Dorrington, director of the Centre for Actuarial Research at UCT, at a seminar in Pretoria. He suggested that I should consider doing my PhD here.
"On my graduation, the Centre for Actuarial Research in the Faculty of Commerce accepted my application for a Postdoctoral Research Fellowship.
"I've enjoyed the quality of education at UCT, specifically at my centre. It is superior, judging from my interactions with scholars pursuing the same programme elsewhere.
"I am modelling the demographic impact of HIV/AIDS in Zambia using a tool, the ASSA2003 urban-rural AIDS and demographic model, which has been developed largely by colleagues in the centre. I am hopeful that the results will assist in the understanding of the extent of the pandemic in Zambia.
"The process involved in being a postdoc has been revealing, and I continue to grow academically. Although my research and publication assignments are individual, I have received a lot of support from staff.
"Part of my terms of reference required me to prepare and teach introductory demography and population studies to final-year geographical and environmental science students, as well as medical students (fourth-year Master of Public Health).
"I think we receive the best treatment from the library. The Postgraduate Funding Office, under which we fall, is trying its best to accommodate the postdoctoral research fellows. Related to this is the confusion of the UCT system - in some departments we are labelled as students, and in some others as staff!"
---
This work is licensed under a Creative Commons Attribution-NoDerivatives 4.0 International License.
Please view the republishing articles page for more information.
---