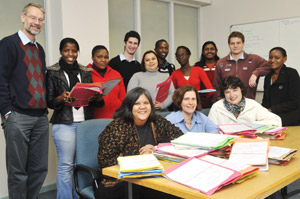 Winning team: The SALDRU team are (from left, standing) Prof Murray Leibbrandt, Vuyokazi Klaas, Nobubele Mata, Tim Brophy, Sheila Muizenheimer, Xolani Klaasen, Dorcas Anguria, Vimal Ranchhod, Arden Finn, and Michelle Chinhema, and seated (from left) Mastoera Sadan, Dr Ingrid Willard, and Louise de Villiers.
UCT's Southern Africa Labour and Development Research Unit (SALDRU) has secured the tender for the second wave of the National Income Dynamics Study (NIDS), the first national household panel study in South Africa.
This follows SALDRU's completion of the first wave of NIDS, a three-year project of the South African Presidency, which ended in March.
NIDS is an intensive, multi-million Rand project to track more than 28 000 people over several years. This will provide a unique insight into who is getting ahead and who is falling behind and the reasons for these dynamic changes. Such understanding is central to the project of social upliftment in South Africa.
"The deadline for mid-February was tight, and over the next three weeks we prepared a solid proposal and harassed everyone for letters of support, assistance on budgeting and cost recovery, and help in completing the mystifying tender documents," said SALDRU director, Professor Murray Leibbrandt. "To our collective credit, the application went in on time."
The NIDS project director in the Presidency, Ms Mastoera Sadan, recently visited SALDRU to finalise the Wave 2 contract.
She noted, "South Africa is undergoing rapid transition, and while the country had made considerable progress in understanding social change, the NIDS Wave 2 will further contribute to the government's understanding of the rapidly changing dynamics in society. The Presidency's support of NIDS reflects the commitment in government for evidence-based policy making."
"We are really delighted," said Leibbrandt." We want to thank everyone at UCT for their support in preparing the bid and in setting up such a solid operation over the three years of the first wave. Hopefully, we can use this next wave to further strengthen our capacity for survey work at UCT."
---
This work is licensed under a Creative Commons Attribution-NoDerivatives 4.0 International License.
Please view the republishing articles page for more information.
---