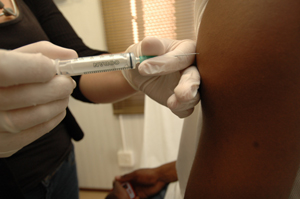 Researchers from UCT's Institute of Infectious Disease and Molecular Medicine (IIDMM) have announced that their two new preventative HIV vaccines have reached the first stage of human clinical trials, a first for Africa.
This trial, called SAAVI 102/HVTN 073, is also a milestone for South Africa. The country is one of the few developing nations to have developed an HIV vaccine and put it forward for human clinical trials.
Professor Anna-Lise Williamson is leader of the team at the IIDMM.
The Desmond Tutu HIV Centre, based at the IIDMM, is one of three sites in the world that will conduct the trials. The others sites are in Johannesburg and Boston in the US.
These vaccines are the culmination of eight years of research by scientists at the IIDMM, UCT, and collaborators from the US National Institutes of Health and the Vaccine Research Centre.
Their development and testing has been underpinned by funding from the South African AIDS Vaccine Initiative (SAAVI) and the US National Institute of Allergy and Infectious Diseases (NIAID).
"There is still a long way to go before we will know if these products will be successful in preventing HIV infection," said SAAVI's interim director, Elise Levendal.
The initial human trial is being conducted jointly with the HIV Vaccine Trials Network and the NIAID, part of the US National Institutes of Health.
The Desmond Tutu HIV Centre has conducted HIV vaccine research for over seven years and launched a dedicated Vaccine Clinical Trials Unit, called the Emavundleni Centre, in Crossroads in 2005.
The study, which commenced in Boston in February 2009, will enrol a small number of HIV-negative participants, considered to be at low risk for HIV-acquisition, to test the tolerability, safety, and side effects of the vaccine.
The Desmond Tutu HIV Centre's site will recruit 18 volunteers for the trial, which will commence in the next few months.
Principle investigator for the site, Dr Linda-Gail Bekker, said: "We are honoured to be one of the clinical sites testing this African HIV vaccine and proud to be part of the bigger research team who are, through this work, moving closer to a safe, effective, preventive HIV vaccine."
---
This work is licensed under a Creative Commons Attribution-NoDerivatives 4.0 International License.
Please view the republishing articles page for more information.
---