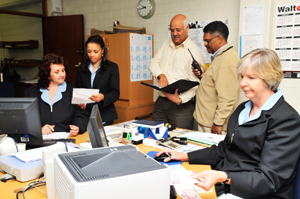 (From right) Traffic administration's June Reeler, Bruce Jansen, Roland September, Rugshana Jansen and Irene Biccard.
What's the unit look like?
The unit falls under the Department of Properties and Services, and is made up of four sections - traffic administration, transport, law enforcement and the Visitors' Reception Information Centre.
The unit is led by traffic and transport manager Roland September, assisted by Bruce Jansen. Team members in the traffic administration section include traffic administrators June Reeler, Irene Biccard and Rugshana Jansen, as well as presiding officer Edgar Kannemeyer.
The transport section is led by supervisor Shanaaz Wilson, and team members are transport monitor Derick Muller and transport clerk Alecia Arendse. The law enforcement section is made up of supervisor Harry Fisher and wardens Sheldon Bennett, Toyhira Davids, Ronnie Mouton, Leon Peregrino, Astor Petersen, Desmond Simpson, John Stoffels, Andile Walaza, Dennis Wellman and Barry Williams. The Visitors' Reception Information Centre is staffed by Delta Jara and Joanne Francis.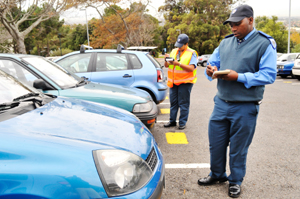 Traffic officers Toyhirah Davids and Andile Walaza check for parking violators.
What does the unit do on a day-to-day basis?
The Visitors' Reception Information Centre is the visitor's entry point to UCT's upper campus, as well as for staff and students looking for directions. The law enforcement members don't only issue tickets to offenders, but also help combat crime on campus, in conjunction with Campus Protection Services. They also assist stranded motorists. Traffic administrators do the data-capturing of tickets, and issue notices to alleged offenders. The presiding officer deals with disputes over fines and offences, and the transport section ensures that transportation, such as the running of the Jammie Shuttle buses, operates smoothly.
What are the challenges facing the unit?
The main issue on campus is, no surprise, the lack of parking. Parking is so limited that staff and students, as well as visitors, vent their frustrations on officers.
What are the best and worst moments of the job?
Officers in this unit often take flak from upset staff, students and visitors who can't find parking. Otherwise the job is rewarding. "Often people appreciate what we do and phone or send us emails, thanking us," Jansen says. And luckily, accidents are few and far between on campus.
What is the weirdest thing you have encountered?
A wandering baboon troop caught everyone by surprise last year.
---
This work is licensed under a Creative Commons Attribution-NoDerivatives 4.0 International License.
Please view the republishing articles page for more information.
---