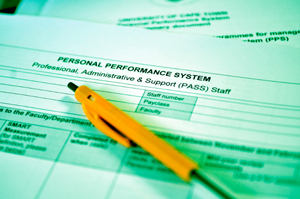 Working with the Employees' Union, the Human Resources Department is introducing a programme of workshops and training sessions for staff, line managers, and executives to sharpen aspects of the university's existing Personal Performance System (PPS).
The PPS is the agreed performance management system for Professional, Administrative, Support and Services (PASS) staff from pay classes 5 to 12.
Broadly, the system aims to enhance employee performance through skills development, and by rewarding excellent performers. It also underpins the university's mission and vision and strategic goals.
The current PPS system was introduced at UCT in 2004, but with mixed results. Like many other higher education institutions, UCT has not found it easy to manage the "unique challenges of performance management in a university context".
According to human resources consultant and organisational psychologist Peter Morris, higher education institutions do not have an established track record in performance management systems.
"Comparative analysis of international performance management models has highlighted deep-seated flaws in conceptualisation, measurement criteria, and impacts of performance models within the higher education context."
In the aftermath of the UCT Employees' Union strike in 2007 and discussions on the implementation of the PPS, it was agreed that more capacity had to be built among PASS staff, line managers and academic managers.
Following a tender process last year, UCT has appointed Peter J Morris Human Resources Consulting to develop and roll out a capacity-building programme, based on workshops and training sessions. The two lead consultants for this project are Morris and Sarah Riordan, both trained organisational psychologists.
"We have studied UCT's existing process and do not propose any major changes to a well-thought-through and agreed process," Riordan said. "However, we believe we can add value by identifying common competencies in some areas, and we can help staff work with their managers to clarify their roles and objectives so that these align with UCT's strategic intent."
Monday Paper has compiled this Q&A, which we hope will provide simple answers about the programme and how it will be rolled out.
Is this programme a new system?
No. It is an initiative to sharpen the existing PPS tool, by providing better training and capacity-building among staff. The programme will build on existing competence among staff and on existing support material.
How will the changes be implemented?
There are three phases to the implementation of the programme. The first, the implementation of a change and communication plan, is already under way. On 9 April the Vice-Chancellor, Dr Max Price, issued an email statement about this work. The second phase involves the design of the workshop and training programme. The third phase is the training programme roll-out.
What will happen and how long will it take?
The consultants will be on campus for 14 weeks and will work closely with project manager Joanne Uphill, former head of Staff Learning. Uphill was intimately involved in the initial design of the PPS. During the consultation phase, they will meet with individuals from a cross-section of the UCT community and will hold focus groups within occupational group categories.
What is being proposed and how will it affect me?
The approved proposal provides for a one-day intervention for all managers and a half-day intervention for all PASS staff. These will be conducted during May and June, and staff will have a choice of dates to minimise workflow disruption. The half-day sessions will help PASS staff get to grips with PPS. They will be shown how to choose Key Performance Areas (or KPAs), how to set objectives, and how to participate in review sessions and personal development plans.
How will the deans and executive directors be trained?
They will be offered a 90-minute discussion with one of the lead consultants. Their focus will be on the strategic management of PPS within their faculty or unit.
Why do managers need a full day's training?
Managers are pivotal to the success of PPS. Their one-day sessions will cover seven PPS modules. Time will be devoted to skills practice and role-playing exercises. It's important to ensure consistency in the application of PPS when it comes to setting goals and when reviewing the system. The plan is to train managers so that they're able to lead the process and introduce it to their staff.
Who's running the show at UCT?
The PPS Steering Committee is overseeing the programme. This is chaired by DVC Prof Thandabantu Nhlapo. Other members are Yasmin Fazel-Ellahi (Employees' Union), Judy Favish (Institutional Planning), Andrea Plos (Employees' Union), Joan Rapp (Libraries) Chris Tobler (Employees' Union), Joanne Uphill, Prof Michael Wormald (Accounting), Prof Nan Yeld (Centre for Higher Education Development), and project champion Khotso Raphoto (Human Resources).
What kind of staff consultation will take place?
Key stakeholders will be consulted and focus groups will be held.
---
This work is licensed under a Creative Commons Attribution-NoDerivatives 4.0 International License.
Please view the republishing articles page for more information.
---