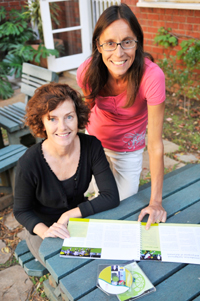 Green goal: UCT's Sandy Rippon and Assoc Prof Merle Sowman are among those at the EEU advising SA cities how to keep the 2010 World Cup green.
South Africa aims to host a green 2010 FIFA World Cup thanks to a comprehensive set of greening guidelines produced for the event by UCT's Environmental Evaluation Unit (EEU).
Commissioned by the national Department of Environmental Affairs and Tourism (DEAT), these guidelines provide strategies for incorporating sustainability principles and practices into the planning, organising and hosting of large sporting events. The 2010 FIFA World Cup will be the biggest sports event this country has yet hosted, a highly resource-intensive operation.
With all the infrastructural demands and the thousands of soccer fans expected to pour into the country, the ecological footprint will be substantial.
"We've not only focused on 'green' issues, but also on broader sustainability issues such as climate change and energy conservation, waste management and sustainable procurement," says Associate Professor Merle Sowman, director of the EEU.
The document and accompanying CD, produced under the slogan Come play GREEN with us, targets local authorities and, in particular, the nine host cities: Cape Town, Johannesburg, Port Elizabeth/Nelson Mandela Bay, Durban, Mangaung/Bloemfontein, Nelspruit, Rustenburg, Tshwane/Pretoria and Polokwane. These guidelines will also be of value to other government departments, service providers and organising committees involved in planning and organising large sporting events.
Over the past decades, environmental principles have increasingly been incorporated into the planning of major sports events such as the Olympic Games, where the concept of Green Games has already become a reality.
Close to 70% of the greenhouse gas emissions generated by the 2006 Winter Olympics were offset by both local and international energy-efficient and renewable energy projects to compensate for these emissions.
"The FIFA World Cup in Germany in 2006 was the first in the history of football where environmental sustainability concerns were placed at the forefront of preparations for the event," said Sowman.
The event produced 92 000 tons of "unavoidable emissions", compensated for by projects in India and South Africa. One local project saw the replacement of a coal furnace on a citrus fruit farm with a new boiler than runs on sawdust.
Strategies for greening of mega sports events were further cemented at the United Nations Environmental Programme 7th World Conference on Sport and the Environment in Beijing in 2007.
"Our purpose was to consolidate the lessons learnt in the greening of sports events around the world to provide guidance for large sporting events in South Africa," adds Sowman.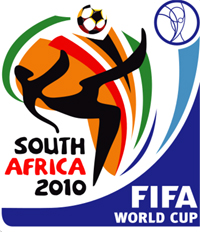 These lessons have been included in the greening guidelines that provide objectives and strategies, and will assist organisers, service providers, and specifically host cities of major sports events - and particularly the 2010 FIFA Wold Cup - to "green" these events.
With the capacity, infrastructure and climate to host big sports events like world cups for soccer, rugby and cricket - even unscheduled events such as the second series of the Indian Premier League (IPL), South Africa is likely to host more and more of these events.
"Large sports tournaments have environmental impacts," says Sowman. "With these guidelines we can mainstream these sustainability issues into these events."
The document was developed by a team of EEU researchers, working with environmental consultants Grace Stead and Sandy Rippon. Each thematic area was 'peer reviewed' by leading environmental consultants in the particular field.
Greening strategies in eight thematic areas were developed. These include:
Climate change and energy
Waste reduction and management
Water conservation and management
Sustainable procurement
Biodiversity conservation
Transport
Design and construction
Related areas such as accommodation and health and wellbeing.
Team members Sowman, Rippon and Vuyisile Zenani have just returned from Johannesburg where they conducted a series of capacity building workshops with government officials from host cities, as well as provincial and national government departments involved in the FIFA World Cup.
Although the officials were concerned about lack of dedicated budgets to ensure sustainability, issues were addressed into the 2010 games. Sowman stressed that an enormous amount could still be achieved if officials were creative and found ways of mainstreaming sustainability principles into core functions.
"It's about doing things 'smarter', not necessarily about large budgets," Sowman says. "Although money invested in greening now will have long-term benefits for the environment and society."
The DEAT is also considering using student volunteers at the 2010 FIFA Soccer World Cup to assist with awareness-raising about sustainability issues. Sowman and Dr Kevin Winter, also of the ENGEO Department, are currently liaising with tertiary institutions around the country to look at the possible role of senior environmental students at the event.
"We think various aspects of the event could be linked to certain university curricula, and that the World Cup event could yield some interesting honours projects. Environmental topics are currently very popular with students."
The Department of Environmental Affairs and Tourism (DEAT) Greening Business Plan includes the following guidelines:
Waste management: Waste minimising, sorting at source, waste avoidance, recycling and re-use, redirection, composting, job creation, art from waste;
Transport and mobility: Use of non-motorised transport, cycling and pedestrian-friendly routes;
Employment and business opportunities: Waste collection and sorting, catering services, accommodation, sight-seeing, energy services;
Water and waste-management: Management of water usage in stadiums, use of waterless urinals, use of grey water, rainwater harvesting, water recycling;
Energy efficiency: Energy-efficient stadiums, fitting street lights with energy-efficient bulbs, solar-powered fan parks;
Biodiversity conservation and management: Protection of flora and fauna and natural habitats, marketing and branding conservation areas;
Awareness and communication: Branding Greening 2010, posters, greening video clip, local radio programmes, training service providers, billboards.
---
This work is licensed under a Creative Commons Attribution-NoDerivatives 4.0 International License.
Please view the republishing articles page for more information.
---