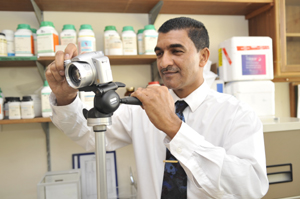 Lensman in action: Abdu Mohamed has been taking pictures of almost every event at the Faculty of Health Sciences since 1995.
When Abdu Mohamed came to UCT in 1995, his duties as a technical officer were to look after all the laboratories in the Division of Chemical Pathology, and perform experiments with Professor Mervyn Berman, as well as sorting out technical problems and helping students with their work in labs. But soon after his arrival he found that the campus was changing dramatically. Old buildings were being demolished and new ones were sprouting everywhere. "Because I like taking photographs, I saw an opportunity to record these changes," he explains. Now his photographs are freely available to UCT staff and students. For this singular achievement, Mohamed was one of around 300 staff members féted by Vice-Chancellor, Dr Max Price, at a formal recognition ceremony recently.
How did he get into photography?
Mohamed is a self-taught photographer, having learnt the trade through good old-fashioned trial and error. Over the years, he has studied manuals and magazine articles on different cameras, and feels he is still on a learning curve. "But when I look through my pictures, I see improvement all the time."
What kind of a camera does he use?
At first he was using a manual Panasonic film camera, but upgraded to a digital Panasonic in 2000. His wish, however, is for a professional-level camera, with zoom lenses and the works.
What kind of pictures does he take?
Buildings and laboratories, including the before and after pictures of those that have been renovated. He also photographs students and functions, such as inaugural lectures, special events, conferences, memorial services and talks, often after hours and over weekends. "The bottom line is that I enjoy doing this regardless of what time of the day or night it takes place," he says.
How does he archive the pictures?
He has taken so many pictures that he ran out of space on his PC long ago. Now he has two boxes spilling over with prints, and the faculty has offered him a larger hard-drive on his machine. "But my dream is to develop an easily-accessible website that will make all pictures available to UCT students and staff."
Any highlights?
Mohamed enjoys taking pictures of students in the laboratory, "because they get so excited and appreciative that they leave joy in my heart". And his favourite photograph is that of Professors Weiland Gevers, David McIntosh and Iqbal Parker posing as construction workers on the site of one of the new buildings.
---
This work is licensed under a Creative Commons Attribution-NoDerivatives 4.0 International License.
Please view the republishing articles page for more information.
---