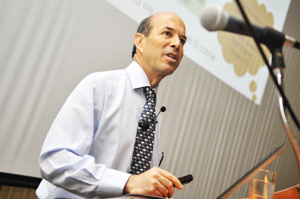 Thin line: Director of the James Martin 21st Century School, Dr Ian Goldin delivered the Vice-Chancellor's Open Lecture, titled Future Shocks and Opportunities: 21st century challenges and choices.
Speaking at the Vice-Chancellor's Open Lecture, Dr Ian Goldin asked: Are the world's leading thinkers anticipating the risks and opportunities of the 21st century, or will humanity be overtaken by its own medical, technological and scientific successes?
In the 21st century, humanity teeters on the edge of catastrophe, treading a narrowing line between development and disaster, said UCT alumnus Dr Ian Goldin in the Vice-Chancellor's Open Lecture on 9 March. Will climate change precipitate our demise? A rampant new virus? Biological warfare? Or will it be imploding civilisation, increasingly at sea and rudderless without meaning and values, as suggested by Emeritus Professor George Ellis in the question-and-answer session?
"We're at the best point in human history, but it's not certain that we won't manage to blow ourselves up," Goldin commented.
The challenge, he said, will be to secure the future of the planet and make it a safer place for the double-digit billions that will inhabit it by 2050.
A former vice-president of the World Bank, Goldin is the author of 12 books, including Globalisation for Development: Trade, finance, aid, migration and ideas, which has been recommended as essential reading by Nobel Prize-winning economist, Joseph Stiglitz.
Now director of Oxford University's James Martin 21st Century School, Goldin has a unique vantage point for surveying the century's "unusually challenging" developments in science and technology - and understanding why the world's great thinkers and leaders have to start grappling with them.
Founded in 2005, the James Martin 21st Century School is a collaborative think-tank for tackling problems of the millennium. It has succeeded in bringing together leading scholars and researchers, providing the resources and space for them to think imaginatively about the things that will enhance or threaten humanity's future: armed conflict, cancer therapy, emerging infections, migration, nanotechnology and stem cell research.
"The world is changing in such fundamental ways that the past is no longer indicative of the future," he said. "Governments and companies should be thinking more about the future. We should all be thinking about systemic issues and major trends, and not trivial issues."
Population dynamics are also changing rapidly. People are living longer, with implications for pensions, retirement, dependency and migration patterns.
By 2050 the aged population bulge could herald a labour crunch, particularly in rich countries.
"Asia will absorb its labour force. Can migration be part of the solution?"
Goldin also outlined key elements in technological change; advancements in artificial intelligence, biotechnology and medicine; and the big ethical issues that accompany stem cell therapy, genetic research and even biological engineering.
"Should we worry about who's in the lab and what's cooking? I think so. We should be asking: "Who's in control? What access will there be?"
Similarly, nanotechnology offers great promise in the 21st century, especially in the medical field. But like many new technologies it's a field not yet fully understood.
"Is this the new asbestosis?" asked Goldin.
Another signature theme of the 21st century, the information Big Bang would have huge implications for education.
The idea of learning would also change fundamentally as people will work longer and evolve their skill sets. With the future threat of pandemics, bio and nuclear terrorism, and climate change jostling for space on the radar, Goldin also showed how the nature of risk is undergoing fundamental change and that risk analysis requires new frameworks.
"There is a developing crisis for global governance structures such as the United Nations, the International Monetary Fund, the World Bank, G8, North Atlantic Treaty Organisation and World Trade Organisation.
"These are not institutions of the 21st century. Can we transform them? How do we begin to get something new?" Education and mass communication would play an important role in finding solutions, he said.
A collective awareness of global challenges would affect education and mass communication, providing "access to the ideas that will solve our problems".
Vice-Chancellor Dr Max Price has mooted the establishment of a South African counterpart to the school, through which local scholars can contribute to work concerning these pressing issues, and also introduce African perspectives.
Speaking at a breakfast hosted by Price, Goldin endorsed the idea, keen to get the Oxford school's researchers thinking about the continent.
"There's not a great awareness of Africa," he commented.
Download a podcast of the full lecture.
---
This work is licensed under a Creative Commons Attribution-NoDerivatives 4.0 International License.
Please view the republishing articles page for more information.
---