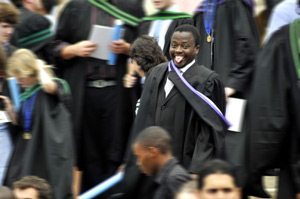 UCT has graduated a whopping 147 PhD candidates this year (75 at last week's graduation ceremonies), five more than last year.
A record nine of these came from the Department of Molecular and Cellular Biology.
They were among thousands of other students who closed the final chapter of their academic lives, donning hoods and gowns to be capped in the stately Jameson Hall from 8 to 12 December.
As has been the case for many years, the bulk of the students, 2 694, graduated from the larger humanities and commerce faculties (2 667, 2007).
Of the total number of 4 489 graduates (4 507, 2007), the Faculty of Commerce awarded 1 374 degrees and diplomas (1 326, 2007), including 533 Bachelor of Business Science and 307 Bachelor of Commerce degrees. The faculty also awarded six PhDs and 30 master's degrees.
The Faculty of Humanities had 1 320 graduates (1 341, 2007). Of these, 277 received Bachelor of Arts degrees. There were 14 PhD graduates, and 69 students were awarded master's degrees.
Graduates from the Faculty of Engineering & the Built Environment numbered 671 (690, 2007). The faculty awarded 12 PhDs and 76 master's degrees.
The Faculty of Health Sciences had 427 graduates (460, 2007), including 165 MBChB graduates (169, 2007), 13 PhDs, and 31 master's degrees.
The Faculty of Law graduated 138 candidates (151, 2007), awarding 96 Bachelor of Laws degrees, 33 master's degrees and three PhDs.
Though the Faculty of Science's total number of graduates, 559 (538, 2007), was smaller than the bigger faculties, they produced the largest number of PhDs: 25 in all. The faculty also awarded 69 master's degrees. A total of 280 students received BSc degrees (307, 2007).
---
This work is licensed under a Creative Commons Attribution-NoDerivatives 4.0 International License.
Please view the republishing articles page for more information.
---