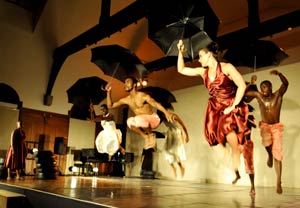 Dancers perform at the launch of the Gordon Institute for Performing and Creative Arts on 3 December.
UCT will host a new hub for the creative and performing arts in the Mother City and South Africa, a facility that Vice-Chancellor Dr Max Price has likened to London's Institute of Creative Arts.
This follows the launch of the Gordon Institute for Performing and Creative Arts (GIPCA) on 3 December, underpinned by a R50-million challenge grant from the Donald Gordon Foundation. It is the largest private foundation in South Africa.
Sir Donald Gordon, a South African businessman and philanthropist, is a renowned international patron of the arts. He founded the Liberty Group in South Africa and Liberty International in the UK.
Professor Pippa Skotnes, director of the Michaelis School of Fine Art, is the interim director of the institute.
Speaking at the launch, held on the Hiddingh campus, Price said the institute would create a cultural precinct at UCT and enhance "Creative Cape Town".
He praised the Donald Gordon Foundation for their foresight and imagination, saying that funders often targeted science and technology projects, neglecting the cultural enterprises that "feed the soul".
Humanities dean Professor Paula Ensor said the facility is one of the most exciting developments in the faculty since it was formed.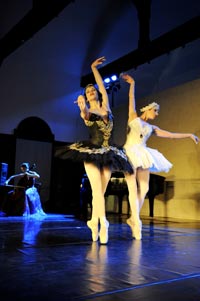 "It builds on the creative energy of creative writing, drama, dance, film and media, fine art, music and the Baxter Theatre. The Gordon Institute not only enhances already outstanding work in the performing and creative arts at UCT, but will also contribute in significant ways to the priorities of our city and province, as well as country and continent in the years ahead."
GIPCA will bring together various centres and departments in art and production and provide spaces for artists to work together.
The participating centres are: the South African College of Music, the Centre for Creative Writing, the Department of Drama, The School of Dance, the Michaelis School of Fine Art, the Centre for Film and Media Studies, and the Baxter Theatre Centre.
Importantly, the new institute will offer four fellowships on a master's level to bridge creative disciplinary boundaries. These candidates will work on year-long projects. However, an avalanche of high-calibre applications delayed the announcement of the fellows on the evening.
Other programmes will include creative arts projects, stage conversations with visiting writers and artists, and a creative and performing arts archive and press.
Guest speaker Pieter-Dirk Uys said he hoped the institute would play its role in gathering and nurturing the country's talent. "There is a black hole out there. So much talent wasted because we don't see it. There are so many important voices we need to hear."
---
This work is licensed under a Creative Commons Attribution-NoDerivatives 4.0 International License.
Please view the republishing articles page for more information.
---