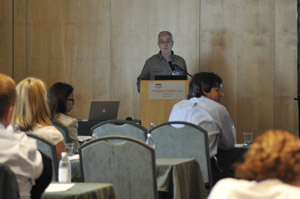 Showcase: Professor Robin Wood speaks at the IIDMM review by the International Scientific Advisory Committee as well as the University Review Committee.
The Institute of Infectious Disease and Molecular Medicine (IIDMM) underwent a three-day review process by both the International Scientific Advisory Committee (ISAC) and the University Review Committee from 2 to 4 November.
The IIDMM, a research institute of higher learning, is located on the Health Sciences Faculty campus and endeavours to be an African centre of excellence in which world class scientists, using state-of-the-art facilities, work together to combat the scourge of infectious diseases such as HIV/AIDS and tuberculosis and to address regionally prevalent cancers and genetic disorders.
The review processes were conducted simultaneously to assess the work done over the last 5 years by members of the Institute and the Institute as a whole, and to give feedback regarding their successes and possible areas for improvement.
"The review process gives members the opportunity to showcase their work in group presentations as well as in one-on-one interviews," explains Professor Gregory Hussey, who is confident the reviewers will see the "excellent" progress made by the institute.
Each member gets about 20 minutes to present their work and impress the reviewers with their progress before a quick question-and-answer session.
"The reviewers will listen to the research and provide advice to the institute at a strategic level," explains ISAC chairperson Professor Valarie Mizrahi. "It was a wise move to consolidate these review processes into a single event."
The review process, which the IIDMM will undergo every five years, is used to determine the nature of the Institute's future direction and funding.
---
This work is licensed under a Creative Commons Attribution-NoDerivatives 4.0 International License.
Please view the republishing articles page for more information.
---