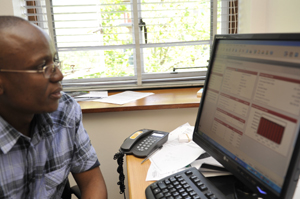 Soft spot: Manya Mooya with a sample of the new software he's landed for his work in UCT's property-studies programme.
Manya Mooya of the Department of Construction Economics and Management has secured a donation of software valued at around R1.6 million.
The Argus Valuation-DCF software, awarded by Argus Software Inc of Houston, Texas, and retailing around US$204 000, is the industry standard in the US for the financial analysis of commercial property. It is also widely used around the world, including in the UK, Australia and New Zealand.
In South Africa it is gaining ground and is currently being used by a number of key financial institutions.
The software brings a number of benefits for students on the property-studies programme at UCT. For one, it allows them to create more realistic models of the complex cash flows and other variables in the analysis of large/complex commercial property investments.
Mooya was first introduced to the Argus Valuation-DCF software at the 24th Annual Conference of the American Real Estate Society in Florida, US, in April.
"Property Studies has been taught without any supporting modern technology up to now, and our graduates in the workplace have said that this creates a major gap when they enter the workplace," says Mooya. "This will bridge the gap and prepare our graduates for the increasingly high-tech property industry, as well as enhancing the status of our programme as the premier property qualification in this country."
---
This work is licensed under a Creative Commons Attribution-NoDerivatives 4.0 International License.
Please view the republishing articles page for more information.
---