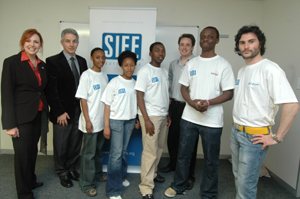 Support: Letitia De Wet (CEO of SIFE SA) and VC Dr Max Price with the UCT SIFE Task Team of Xoliswa Cingo, Zanele Malumba, Nathi Mbele, Garreth Bloor, Richard Manzini, and Alon Lichtenstein during the launch of the organisation.
Social-responsive outreach projects received a boost when the Cape Town chapter of the Students In Free Enterprise (SIFE), an international enterprise and social responsiveness network, was launched at UCT on 16 October.
SIFE is an organisation of academics, business leaders and students operating in over 50 countries world-wide, offering students opportunities to begin their outreach projects, or work in an existing one, with the support of an international faculty.
This gives the existing on-campus community responsive projects operating within societies, sports clubs and in residences opportunity to partner with UCT SIFE, and will provide students with skills and knowledge required for their attempts to find solutions to community problems.
"There is a big gap between people with resources and those who don't have them, but have ideas on how to make difference in society," explained Gareth Bloor, UCT SIFE founding president and a member of the out-going Student Representative Council.
The Career Development Programme (CDP) and City of Cape Town are UCT SIFE partners, and there are five other SIFE chapters in other South African universities.
"We recognise that at UCT, or in Cape Town as whole, many people begin projects in their communities, students' residences or societies, though often do not have resources or infrastructure to ensure the success of those projects. SIFE has been established to provide a network with easy access to these resources"
The launch was attended by over 150 people, including Vice-Chancellor Dr Max Price.
---
This work is licensed under a Creative Commons Attribution-NoDerivatives 4.0 International License.
Please view the republishing articles page for more information.
---