Citing Steve Biko's legacy of activism and community involvement as a student and beyond, Manuel argued that an energised democracy requires the passionate involvement of the people, and called for the return of activists who would mobilise their communities to solve their problems.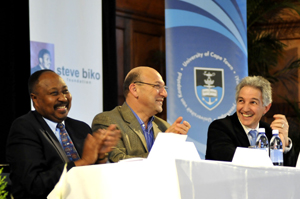 Get involved: Finance Minister Trevor Manuel, here with DVC Prof Thandabantu Nhlapo (left) and VC Dr Max Price (right), delivered the Ninth Annual Steve Biko Memorial Lecture at UCT.
"Biko's writings sneer at the notion of a passive mass of poor people waiting for a government or a leader to deliver unto them what they seek," noted Manuel. "He also detested a perspective of development as something that government hands out to people as though it were some type of product or commodity."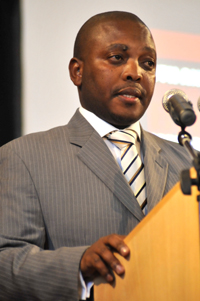 Left, Nkosinathi Biko, CEO of the Steve Biko Foundation that launched the lecture series.
Manuel quoted Biko, who wrote: "...it is necessary for us to think collectively about a problem we never created... we have to find out what went wrong - where and when; and we have to find out whether our position is a deliberate creation of God or an artificial fabrication of the truth by power-hungry people whose motive is authority, security, wealth and comfort..."
Manuel believes the issues of consciousness are as relevant now as they were when Biko wrote on the subject.
"Freedom must be about conscientisation," he said.
"Development has to begin with a consciousness among people that they have power. People must have the consciousness to understand what development means, to understand what empowerment means, for these are not goodies handed out from mountain tops or at the local welfare office."
Manuel noted that this wasn't a suggestion that the government could abdicate its responsibilities, but that it required the participation of the people to be effective.
"Government cannot deliver development single-handedly," he said. "It can and must partner with active and conscious communities to effect real transformation.
"What I am calling for is for more peoples' power, for a deeper understanding of development and for a richer discourse on empowerment."
Manuel cited crime as an issue that could be effectively tackled with the co-operation of communities.
"There is clear evidence that the development of trust between police and the communities is a critical element of an effective strategy to reduce crime," he said.
Manuel also called for the return of protest culture.
"When we reminisce about the 1970s and the 1980s, we often remember the mass protests, the community mobilisation, the active involvement of communities in solving their own problems. How did these things occur? Who were the catalysts? Communities did not suddenly wake up and start protesting. No, they were organised by groups of young activists, mostly students.
"Where have all the activists gone? What do the young people who are politically astute and socially aware do these days? Who is doing the mobilising? Who are the catalysts for social transformation?"
Manuel also included local businesses in his call for involvement, noting that although businesses have the right to generate profits, they also have responsibilities to the communities they serve.
"We need elites that plough back, not plunder," he said. "We need a business community that balances its freedom to make profits with an understanding of the distorted history of accumulation in this country.
"We need a private sector that recognises that the present concentration of the economy is not necessarily good for growth and long-term development. We expect businesses to take tougher measures to curb anti-competitive practices and to think consciously of tomorrow, not just today." Download a podcast and full text of the lecture here.
---
This work is licensed under a Creative Commons Attribution-NoDerivatives 4.0 International License.
Please view the republishing articles page for more information.
---