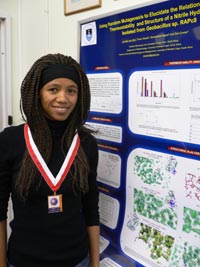 Dr Jennifer van Wyk, a postdoctoral student in UCT's Electron Microscope Unit, has won a US$500 poster award at Extremophiles 2008, a major international conference held recently in Somerset West.
The conference, co-organised by Professor Stephanie Burton, is aimed at understanding organisms that live in extreme environments. Such organisms are not only a potential source of industrial enzymes, but also give clues on how to engineer enzymes for the extremes found in the industrial environment.
Van Wyk earned her PhD at the University of the Western Cape for the work she did in producing mutations in the enzyme nitrile hydratase (the world's most profitable industrial enzyme), which increase stability at high temperatures, and interpreting these mutations in the light of the structures of the mutated enzymes.
She discovered how the introduction of hydrogen bonds via water molecules can contribute to enzyme thermostability - the ability of the protein to resist irreversible change in its structure at relatively high temperatures.
Van Wyk is currently working on the structure of a potential septicaemia drug target with Professor Trevor Sewell, as part of UCT's drug discovery signature theme.
---
This work is licensed under a Creative Commons Attribution-NoDerivatives 4.0 International License.
Please view the republishing articles page for more information.
---