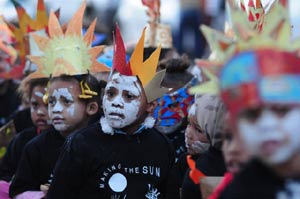 Show time: Some of the kids that took part in the procession that caps the annual Clanwilliam arts development project.
On 7 September, a group of people trekked to the small town of Clanwilliam, some 220 kilometres north-west of Cape Town, to attend the arts development project held there annually.
The project is an ongoing collaboration between the UCT Department of Drama (through Associate Professor Mark Fleishman), the Michaelis School of Fine Art (Professor Pippa Skotnes), Magnet Theatre and Jazzart Dance Theatre. It is funded by Fairheads Trust Company.
The impetus for the arts project came from discussions between Skotnes and Peter and Barbara Fairhead who were trying to find ways to engage Cape Town communities with art and the imagination. After several years the project moved to Clanwilliam to complement work done as part of the Living Landscape Project, a community-based heritage and education project aimed at "returning the archaeological archive" to the community of Clanwilliam.
Professor John Parkington from the Department of Archaeology initiated this project in the early 1990s.
Each year around 500 local children workshop a story told by the |xam (a San group) people, chosen from an archive of |xam narratives recorded by linguists Lucy Lloyd and Wilhelm Bleek over 130 years ago. This archive has formed the subject of a recent book by Professor Pippa Skotnes titled Claim to the Country.
The workshops involve dance, storytelling, shadow puppetry, and arts and crafts. The programme culminates in a lantern-lit procession and performance which is based on |xam storytelling elements, including fire dancing, music and large illuminated objects made by the learners.
Earlier this year Fleishman and Skotnes received UCT's 2008 Pifer Award, made annually to researchers whose research contributes to the advancement of disadvantaged South Africans.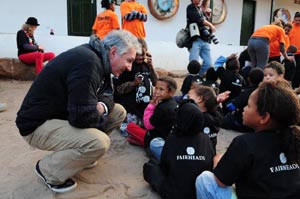 Vice-Chancellor Dr Max Price was among the group that made their way to Clanwilliam for the arts project in Clanwilliam.
---
This work is licensed under a Creative Commons Attribution-NoDerivatives 4.0 International License.
Please view the republishing articles page for more information.
---