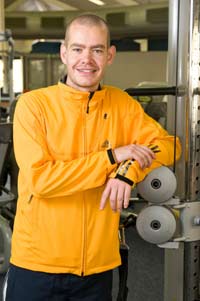 As our Paralympians started their medal haul in Beijing, sports scientists were dissecting the dismal performance of Team South Africa at the Olympics.
At a debriefing at the Sports Science Institute, UCT alumnus Dr Ross Tucker (left) said our athletes had faced an ambush, with insufficient armour, weapons, or strategy. The problem lay with sports structures that marginalised coaching expertise and misunderstood the need for a scientific approach to sport.
Having fallen well short of SASCOC's 10-medal prediction, it was the country's worst Olympics performance since readmission in 1992 - and since 1936.
"We [sports scientists] don't want to stand on the outskirts," Tucker added. "We want to be involved in the diagnosis and the development of a vision for 2020."
And while many African and personal-best records had been smashed by our athletes, Tucker said that unless South Africa began to invest in those athletes now, it was unlikely that any would make a final in London in 2012.
But talent isn't the problem.
"We have good young athletes and potential medal winners, but they will be lost over the next four years because there is no structure to feed them into."
He advocates a simple, inclusive strategy: match the best athletes with the best coaches, provide real financial support and a thoroughly intellectual approach. South Africa, he said, marginalised its expertise.
"Our best 800m coach is working in a Virgin Active gym as a personal trainer. Why?"
Tucker and Professor Tim Noakes have put together a strategic vision for high performance sport in the country by 2020.
---
This work is licensed under a Creative Commons Attribution-NoDerivatives 4.0 International License.
Please view the republishing articles page for more information.
---