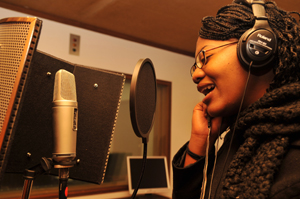 Second-year jazz student Babalwa Mpulu tries out the studio condensor recording microphone, made by Rode and used in the Project Recording Studio, which is coupled to the new Music Technology Training Centre.
A grant from the University Equipment Committee has underpinned the launch of the long-awaited audio-visual editing centre, one that will give UCT music and dance students an entrée to cutting-edge sound manipulation and recording facilities.
In step with UCT's goal is to be a place of world-class teaching and research, the newly launched Music Technology Training Centre is a timeous addition to the South African College of Music's facilities.
Housed in a former listening laboratory and linked to the college's Project Recording Studio, its 10 workstations are equipped with high-end hardware and editing software, including industry-standard music notation packages such as Sibelius 5 and Finale 2009, combined with Logic Pro 8, Cubase 4, Protools 7.4 and Reason 4.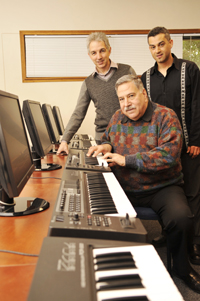 "Without it, we're history," lecturer and musician Alistair Andrews said of the centre.
A professional bass guitar player, Andrews said "enormous technological change" in the industry had changed the way music and musicians function.
"This is the real world and UCT students have to be equipped with the right skills for it."
"The centre has been a dream for many years, but with the competition for funds at UCT being so strenuous it has not been possible to make a substantial move in this direction," said SACM director Professor Peter Klatzow (at the keyboard in the picture with Vice-Chancellor, Dr Max Price (left) and the SACM's Paul Sedres).
"Now we are at the point where our students can learn the basics of commercial and media music, can compose using the new technology, and can move on to positions in recording studios as producers and editors."
The centre underpins the Contemporary Music Practice course. With this, students can work as sound engineers, produce contemporary electronic music, teach music technology, and work in recording studios and post-production suites.
It will also enhance the professional performance and recording aspects, teaching students what to listen for on headphones and how to sit in front of a microphone.
Andrews echoes what Vice-Chancellor Dr Max Price said in his recent installation address when he pledged to provide a world-class education that is forward-looking in content and method, and graduates that are internationally mobile.
As such, the facility is part of the college's broader strategy for information and communication technology.
"We're looking at expanding this to be more comprehensive, tying it to a music technology degree, such as the one the University of Stellenbosch offers," facility manager Paul Sedres said.
"We have all the people skills and now the hardware and software."
The users, mainly second- and third-year students on the Contemporary Music Practice course, gave it a thumbs-up.
"Seri-euse!"
"Amazing!"
"This is mine!"
"Dude, we're witnessing a historical moment!"
The benefits will not be confined to campus.
"We intend collaborating with industry and regional providers of similar services, such as the SAE Institute, to improve teaching," Sedres said. "And the Western Cape Department of Education is looking for facilities that can teach their music teachers."
What would Mozart have thought?
"He'd have loved it," Sedres said.
---
This work is licensed under a Creative Commons Attribution-NoDerivatives 4.0 International License.
Please view the republishing articles page for more information.
---