Setting the tone for his term as Vice-Chancellor in his installation address on Tuesday night, Dr Max Price mooted the creation of pro-vice-chancellors to lead intellectual projects of national importance.
These include safety and security.
As such, a pro-vice-chancellor would ensure that "... UCT brings all its intellectual resources to bear on the problem of violent crime and the threat it poses to our survival".
Price was installed as UCT's ninth Vice-Chancellor in the Jameson Hall, a ceremony attended by Minister of Education Naledi Pandor and Chancellor Graça Machel, (pictured left as she invests Dr Price with his robe of office), and graced by the musical and choral offerings of UCT's South African College of Music.
In his address, Price also provided a clear indication of his leadership style.
"Transformative leaders value diversity, build self esteem, nurture talent, mentor, listen and respect, along with the leadership they provide."
Speaking on the pomp and ceremony of the occasion, Price noted that they harked back to an earlier idea of a university as "a space of ideas, critique and the pursuit of truth".
"It means that a university requires that people respect each other and give them the benefit of the doubt that all are equally committed to seeking truth." He committed UCT to promoting democracy by providing a highly skilled workforce educated in "thoughtful citizenry".
"This is the basis upon which UCT makes its most profound contribution to the development and transformation of our society."
Price spoke of his vision of UCT as an Afropolitan university.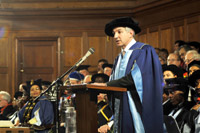 "The 'Afro' element connotes an open, assertive engagement with the world from the standpoint of Africa. It describes a growth in African studies, particularly the economic sociologies of different African countries and regions. 'Politan' suggests cosmopolitan and signals firstly, a sophisticated and future oriented approach to understanding Africa, as opposed to a sentimental, naïve, often 'rural peasant and wildlife' view of what an African perspective is.
"Secondly, UCT will be cosmopolitan in the sense of the mix of staff and students, from Africa, Latin America, Asia and from the North."
UCT should replace SOAS in political studies, Queen Elizabeth House, Oxford, in African government and post-colonialism, John Hopkins in public health, and Harvard's Kennedy School and Columbia's executive education and public administration "as it is understood for Africa", noted Price.
"To be a global university, UCT needs to be an African university."
In her congratulatory message, Minister of Education Naledi Pandor said: "We have been working at home and abroad with the African Diaspora initiative in an attempt to encourage African scholars to work with African institutions in expanding research and development. Working together with the DST and other departments we are creating conditions for real partnerships."
Price said UCT also had a responsibility to tackle four pressing national issues: threats to democracy and constitutionalism; HIV/AIDS and TB; violent crime; and a public school system that had "failed the country and the universities".
"Previously we took the view that this was not our problem to fix. We can no longer ignore it for it will be our downfall. We will do our share."
Straying from her prepared speech, Minister Pandor's response was to the point. "We are going to have interesting times with Dr Max Price in higher education."
Download the full text of Dr Max Price's installation address.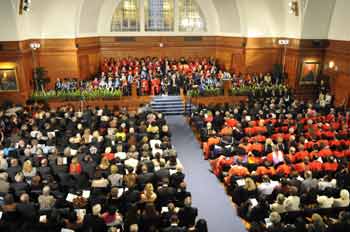 ---
This work is licensed under a Creative Commons Attribution-NoDerivatives 4.0 International License.
Please view the republishing articles page for more information.
---