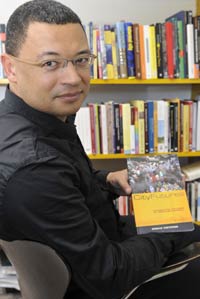 Director of the African Centre for Cities, Professor Edgar Pieterse's new book, City Futures: Confronting the crisis of urban development, coincides with an important global marker. This year more than 50% of the world's 6.68 billion people will be living in cities and towns.
While the Southern Hemisphere accounts for most of this urban growth - with its attendant problems like slums, poverty, unemployment and lack of governance - its citizens remain cut off from the economic, social and political advantages of urbanisation.
Renowned urbanist Professor Ash Amin describes Pieterse's book as "an important and hopeful work that does not shy away from the inequalities and power asymmetries that confront cities of the South".
"We sit with the irony that the concentration of the world's urban challenges are prevalent in the global South but probably 95% of the research and knowledge on the issues is generated in the North," Pieterse said at the launch.
"This is part of the problem. I'm hoping the book will demonstrate that we can tell this story in more compelling ways. In the practice of living with these challenges we probably have more innovative ideas about what needs to be done and how to go about it."
Pieterse says he hopes the book will make the important debate in the broader field of development accessible to a wider reading public, especially undergraduate students and activists in urban social movements, NGOs and government.
---
This work is licensed under a Creative Commons Attribution-NoDerivatives 4.0 International License.
Please view the republishing articles page for more information.
---