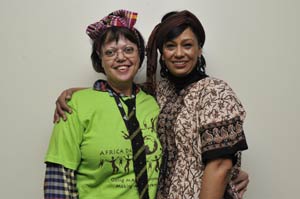 Team spirit: Enjoying the celebrations in the Leslie Commerce Building are (from left) Terri Grant and Chantell Adams of the Faculty of Commerce
Several events took place at UCT over the past week in celebration of Africa Day, which is on 25 May.
The Faculty of Commerce programme on 23 May included visual, verbal and musical arts. Titled Making a Difference, the faculty's celebrations focused on social conscience, respecting diversity, celebrating unity and reclaiming humanity.
Representatives from HIV/AIDS Coordination - UCT (HAICU), the National Institute for Crime Prevention and the Reintegration of Offenders (NICRO) as well as the Children's Institute and HIV/AIDS organizations were also invited to help spread awareness.
All proceeds from the day will be donated to Bishop Paul Verryn of the Central Methodist Church, who feeds and provides shelter to displaced and victimised refugees.
An anti-xenophobia and violence petition was circulated for signatures and will be sent to the President, and the Ministers of Foreign and Home Affairs.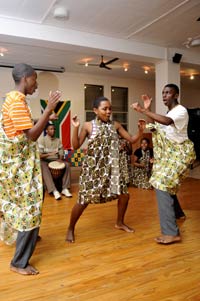 The International Academic Programmes Office (IAPO) also hold their celebrations late on 23 May, at the Graça Machel Hall. Their programme was student centred, with UCT students participating in entertainment such as praise singing, poetry and Marimba music. The two key speakers at the event will be the SRC vice-president Thamfanqa Ledwaba, and Janet Mugume of the East African Society.
The Centre for African Studies (CAS) hosted a concert featuring music, poetry and dance performances by the Congolese, Hindu and Capoeira societies as well as dancers from the Ubuntu Theatre (left) on 20 May. African clothes and jewelry were also on sale.
CAS also hosted an Africa Day seminar, titled The Library at Timbuktu - a South Africa/Mali architectural winner on 19 May.
---
This work is licensed under a Creative Commons Attribution-NoDerivatives 4.0 International License.
Please view the republishing articles page for more information.
---