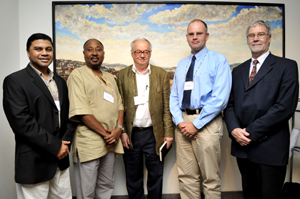 Centre of Excellence: Dean of Engineering & the Built Environment, Prof Francis Petersen, DVC Prof Thandabantu Nhlapo, Måns Lönnroth (Volvo Research & Educational Foundations Steering Board), Assoc Prof Roger Behrens (Centre of Transport Studies), and Acting DVC Prof Danie Visser.
Five years ago Associate Professor Roger Behrens (Centre for Transport Studies) would leave home in Meadowridge at 06h45 for UCT to avoid traffic. Each year since his travel time by car has increased by five minutes.
Behrens' case may be anecdotal, but it mirrors a pervasive problem: rapid growth in traffic congestion, the result of an increase in vehicles that has outstripped investment in road infrastructure, a problem not dissimilar to the power debacle.
"The peak period is no longer confined to one or two hours. It's spreading incrementally," Behrens says.
"But it's not a problem we can build our way out of. We can't just expand the road space continually. And designing cities' transport systems around cars is not an option."
There are other pressing factors: rising greenhouse gas emissions and an expected peak in global oil production, forcing further escalations in petrol and diesel prices.
Given this scenario, the launch of the new Volvo Research & Educational Foundations Centre of Excellence for Future Urban Transport is timely.
Launched at UCT less than a fortnight ago, the African Future Urban Transport CoE for Studies in Public and Non-motorised Transport (ACET) will harness research from three leading African universities to find public and non-motorised transport solutions for the continent's big cities. It will also act as a hub of research and capacity building.
Its work will fall on UCT's Centre of Transport Studies in the Faculty of Engineering & the Built Environment, the University of Dar es Salaam's Department of Transportation and Geotechnical Engineering and the University of Nairobi's Institute for Development Studies.
Cape Town, Dar es Salaam and Nairobi, all cities with around three million people, will be used as case studies. They have common problems associated with the regulation and improvement of informal or unscheduled paratransit modes of public transport: minibus taxis in South Africa: the dala dalas in Tanzania and matatus in Kenya.
"We identified international partners we'd like to pull into our centre, Professor Elliot Sclar of Columbia University, Dr Meleckidzedeck Khayesi of the World Health Organisation, Professor Dinesh Mohan and Associate Professor Geetam Tiwari of IIT Delhi, and Associate Professor Eduardo Vasconcellos of the Brazilian Public Transport Association," Behrens said.
"If you look at journal output alone, there's been relatively little from African countries in the past 10 years. But this provides great opportunities for future publication."
It is the Volvo Foundations' seventh such centre, extending the international network of multidisciplinary and interdisciplinary collaboration in this area.
"It's a hugely important programme and a great opportunity to address unique problems in Africa," said Måns Lönnroth, a member of the Volvo Research & Educational Foundations Board.
Speaking at the launch, Deputy Vice-Chancellor Professor Thandabantu Nhlapo said: "UCT strives to be a research-led university with a global footprint, and to be nationally relevant. So it's wonderful to see this collaboration with other African universities. This is precisely what we aspire to."
There's no doubt that Cape Town, with its 2010 focus and greater funding for public transport, will attach particular value to the centre's work.
Will we see safe, reliable alternatives in urban transport that will persuade motorists to give up their car keys?
Behrens likes to think so.
"We're entering a time that we see as hugely significant. Otherwise, there is a crisis looming."
---
This work is licensed under a Creative Commons Attribution-NoDerivatives 4.0 International License.
Please view the republishing articles page for more information.
---