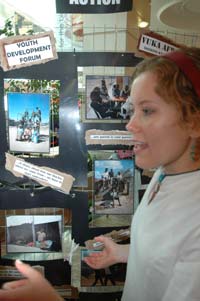 Last week, UCT occupational therapy students staged an exhibition at Canal Walk to showcase their work in disadvantaged communities and to draw the attention of the public to the realities of life in these communities. The exhibition chronicled the students' work in these communities under supervision of staff members Roshan Galvaan and Liesl Kent.
The exhibition was prompted by the poor understanding many people have of occupational therapy, and by the fact that some people turn a blind eye to the hardships experienced by the poor.
Meghan Dawson, one of the fourth-year students behind the show, said: "We want to advocate for occupational therapy and raise awareness about the reality - and hope - of life in the poor areas."
The exhibition included a DVD of a group of young girls from Lavender Hill who invented a board game about energy conservation. The game won the Eskom ETA Award, an annual competition to promote energy efficiency, and allowed them to represent South Africa at an international event in Sweden. The girls were part of At Risk Youth, one of the community-based groups the UCT students have been working with to replace risk-taking behaviours with positive activities.
"We are trying to provide opportunities to unlock their potential," said student Tamar Koekemoer.
The exhibition ended on Sunday, 13 April.
---
This work is licensed under a Creative Commons Attribution-NoDerivatives 4.0 International License.
Please view the republishing articles page for more information.
---