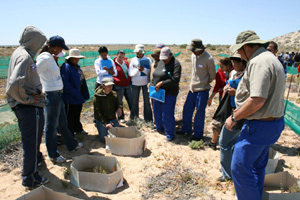 Participants of the restoration course receive training on restoration packs that are used to re-introduce perennial plant species on newly restored areas.
Decades of diamond mining along Namaqualand's arid coastline have turned large tracts into wasteland. Now a UCT-led project, the Namaqualand Restoration Initiative (NRI), is putting life back in the sand - and a little sparkle in the coastal towns.
With its sensitive ecosystem, Namaqualand falls within the Succulent Karoo, not a name you'd associate with sparcity that lends the region its mystique.
NRI director and ecologist Dr Peter Carrick (Plant Conservation Unit) will tell you that the Succulent Karoo is one of only two semi-arid ecosystems to make it among the world's 34 biodiversity hotspots. It's a special place.
But for years the long narrow strip down the coast, from north of Kleinzee to south of Hondeklipbaai, has been out of bounds to the public. Only now that the diamond mines are closing shop (the shelves are nearly bare) are we seeing the remains: mine dumps and denuded areas.
There had been ad hoc restoration activities of mined-out areas by mine operators and even farmers. But the co-ordinated, scientifically-based approach adopted by the NRI was lacking.
Formed with start-up capital provided by the Critical Ecosystem Partnership Fund and further funding provided by De Beers, the NRI is fostering links with mine operators and harnessing the expertise of restoration practitioners and the use of scientifically based field experiments to develop novel restoration methods.
"We realised we didn't have to reinvent the wheel," adds Susan Botha (project liaison and ecologist).
"Many mine operators and farmers had been doing restoration for some time and we could learn from them."
Botha pulled on her walking boots to interview many of them.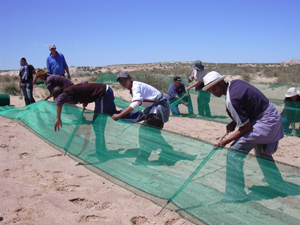 Near the Namaqua Sands mining operation near Lutzville a strange sight meets the eye. Rows and rows of shadecloth across spartan land.
Krüger explains that it's there to keep the wind at bay. Wind is the enemy, ameliorating the soil already altered by mining and destroying the replanted vegetation.
The shadecloth lesson was gleaned from past experience of miners and locals who'd tried other methods to keep the wind at bay.
The team also undertook several field experiments over the past three years to decipher the ecological requirements for the establishment of a diversity of perennial species on the mined areas.
Now, the NRI in partnership with De Beers has created a new restoration business, harnessing the local workforce: Namaqualanders from small coastal towns with evocative names like Spoegrivier, Soebatsfontein and Hondeklipbaai.
They will work for a new business, NM Restoration, fully owned by three Namaqualanders and this new venture will replace the dumps with the diversity of plants that lived there before, restoring more than 150 ha annually.
To train a workforce for the new business, the NRI recently ran a five-day restoration training course that taught 47 local Namaqualanders (sifted from 150 applicants) the ins and outs of the restoration process: handling topsoil, identifying local plants (by their scientific names), erecting nets, how to harvest and store viable seeds and how to plant these.
"They were fully involved throughout the course, despite the sometimes dense course material and long hours. It was really amazing," said Susan Botha (project liaison and ecologist).
Field researcher and ecologist Raldo Krüger echoes this.
"The trainees were so interested in learning more about the plants and ecology of Namaqualand. Many thanked us for opening a whole new world to them."
Of the course attendants, 15 have already been signed up for the new restoration business. More jobs will be available when NM Restoration expands.
It's this that excites Carrick: "The joint opportunity to create employment and restore the environment has been seized by the economic and environmental role that NM restoration will fulfil. It's been my dream to empower local people from Namaqualand to become owners of fully functional businesses that provide much-needed services."
Now it's a landscape in waiting.
---
This work is licensed under a Creative Commons Attribution-NoDerivatives 4.0 International License.
Please view the republishing articles page for more information.
---