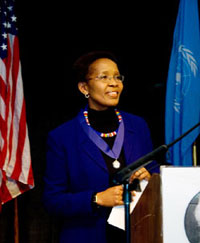 Associate Professor Pumla Gobodo-Madikizela (psychology) has received the Eleanor Roosevelt Medal for her international work on forgiveness and reconciliation.
"It is a wonderful honour not just for me, but also an acknowledgement of the significance of what we started in South Africa for many other regions globally," she says.
The medal honours Roosevelt's legacy, notably her contribution to global peace and her role in drafting the UN Declaration of Human Rights. "When I served on the Truth and Reconciliation Commission (TRC) I learned that ordinary people, given the 'right' circumstances, are capable of far greater evil than we could have imagined. My work on the TRC led me to believe that given the circumstances, human beings are capable of far greater virtue than one would have thought," Gobodo-Madikizela said.
"Thus, the greatest lesson for me was from genuine expressions of remorse by perpetrators and acts of forgiveness expressed by families who lost loved ones irreparably. Until then I had never witnessed or heard of forgiveness in the context of so much tragedy."
She said this had influenced her professional work as well as her outlook on relational conflict.
"There is no doubt that the award, too, is acknowledgement of the continuing global significance of the South African story of transition after apartheid."
Another recipient of the Eleanor Roosevelt Medal this year is Cherie Blair. Previous winners include Hillary Rodham Clinton and US social activist and child rights advocate Marian Wright-Edelman, one of Gobodo-Madikizela's role models.
---
This work is licensed under a Creative Commons Attribution-NoDerivatives 4.0 International License.
Please view the republishing articles page for more information.
---