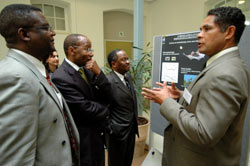 Big science: Minister of Science and Technology Mosibudi Mangena (second from left) visited Prof David Jacob's (right) display. Also in picture are the NRF's Prof Mzamo Mangaliso (left) and VC Prof Njabulo S Ndebele.
UCT has secured 19 of the next 51 national research chairs, part of the Department of Science and Technology's South African Research Chairs Initiative (SARChI), announced by the Minister of Science and Technology yesterday.
Eighteen of these candidates have accepted the award and will take up their positions over the next months.
In December 2006, UCT secured seven of the first 21 chairs, established in strategic research areas at higher education institutions to reverse the country's research decline. UCT now hosts approximately 35% of the 72 SARChI chairs.
The 18 successful UCT candidates are:
Prof Jonathan Blackburn (functional proteomics)
Prof Frank Brombacher (immunology and infectious diseases in Africa)
Prof Kelly Chibale (drug discovery)
Dr Marc Combrink (clinical neurosciences)
Prof Drucilla Cornell (customary law)
Dr Keertan Dheda (lung infection and inmmunity)
Prof Jean-Paul Franzidis (minerals beneficiation)
Prof Carolyn Hamilton (archive and public culture)
Prof Sue Harrison (bioprocess engineering)
Prof Bruce Hewitson (climate change)
Prof David Jacobs (animal evolution and systematics)
Prof Murray Leibbrandt (poverty and inequality research)
Prof Diane McIntyre (health and wealth)
Prof Raj Mesthrie (migration, language and social change)
Prof Lungisile Ntsebeza (land reform and democracy)
Prof Edgar Pieterse (urban policy)
Prof Abdulkader Tayob (African publics and religious values)
Prof Anna-Lise Williamson (vaccinology)
The DST plans to establish 210 research chairs by 2010, fostering high-level research capacity and creating a "brain gain", Minister of Science and Technology Mosibudi Mangena said at the launch.
Thirty six percent of the current chairs are held by black researchers.
---
This work is licensed under a Creative Commons Attribution-NoDerivatives 4.0 International License.
Please view the republishing articles page for more information.
---