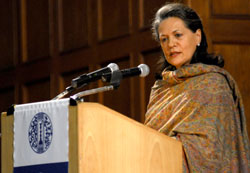 Standing ovation: Sonia Gandhi delivered the inaugural lecture in the Gandhi Lecture Series, which will be delivered around the world.
In the aftermath of National Women's Day earlier this month, UCT has hosted several influential women on campus - and opened a brand new women's residence.
On Thursday 23 August, Sonia Gandhi, leader of India's ruling Congress Party, was greeted by a standing ovation in the packed Jameson Hall, before delivering the inaugural lecture in the Gandhi Lecture Series. This will be delivered around the world.
"I stand before you in a spirit of humility to speak about one of the greatest figures of history, whose experiments with truth began in your country," she said.
Gandhi was at UCT to launch a series of lectures which celebrate the centenary of Mahatma Gandhi's philosophy of non-violent struggle against oppression which, she argues, remains relevant and can still be effective against present-day injustices.
"His generalship lay not in making war but in waging peace. 'There are many causes that I am prepared to die for', he said, 'but no causes that I am prepared to kill for'," said Gandhi. "Here in South Africa, Nelson Mandela is a shining embodiment of that vision. The whole world celebrates the achievement of him and his fellow freedom fighters."
Gandhi referred to her visit to South Africa as "a pilgrimage", as it was here that Mahatma Gandhi began his lifelong struggle against oppression before focusing on India's liberation from British colonialism.
In his welcome, Vice-Chancellor and Principal Professor Njabulo S Ndebele said: "As a woman in leadership, she embodies the very goals that UCT continuously aspires to attain through its mission and vision.
"Advancing women in leadership is an integral part of the university's transformation objective and over the years UCT has strived to promote women students and staff in all aspects of their academic and professional development."
Last year UCT enrolled 7 901 women at undergraduate level, compared to 7 512 men.
"We have also seen the number of women graduates at master's and doctoral levels jump from 236 in 1999 to 442 in 2006."
Guests at the lecture included first lady Zanele Mbeki, the Minister of the Presidency of South Africa, Dr Essop Pahad, the Indian Minister of State, Anand Sharma, and the High Commissioner of India, Rajiv Kumar Bhatia.
A day earlier, UCT Chancellor, former first lady Graça Machel, officially opened the new women's residence, Graça Machel Hall (see story below).
Speaking at the event, Prof Ndebele said women had come a long way since 1886.
The date is an auspicious one, marking the first admission of four women to the institution, on a "trial basis", when it was the South African College for boys.
"The move paved the way for pioneering women to walk the corridors of this formerly cloistered bastion, and from its halls and classrooms emerged some of UCT's groundbreaking staff and alumni," he said in his address.
---
This work is licensed under a Creative Commons Attribution-NoDerivatives 4.0 International License.
Please view the republishing articles page for more information.
---