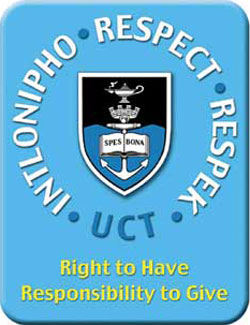 Sparked in part by the strike by professional and administrative staff earlier this year, UCT's new Respect Campaign strives to instil a culture of respect for people and opinions
UCT recently launched a major new campaign to boost the culture of courtesy and mutual respect that it says is critical to ensuring the transformation of the institution is kept on track.
The campaign - called Respect - was launched on Human Rights Day with an email from the Vice-Chancellor and Principal, Professor Njabulo S Ndebele, to staff.
According to deputy vice-chancellor Professor Martin Hall, who holds the transformation portfolio, respect is a vital ingredient for the smooth running of any organisation and a critical one for organisations undergoing transformation.
'Without respect for one another transformation cannot happen," said Hall. "While the university is publicly committed to creating an inclusive learning and work environment, it can only fulfil that commitment through the actions of individual members of the university community."
Hall says that the campaign will contribute to creating a nurturing and effective study and work environment at the university, and that this is an essential part of making sure UCT maintains its position as a leading tertiary institution on the African continent.
According to Hall, the campaign has been launched in response to ongoing issues at UCT but was spurred on by industrial action on the campus earlier this year. "While the strike was ostensibly about the traditional issue of pay, it was clear that there were other issues involved concerning the way people experience working at UCT that we need to address," he said.
Hall said that these issues included perceptions of racism, sexual harassment, intolerance and xenophobia, which are not conducive to a healthy institutional climate.
"Respect means a willingness to show consideration or appreciation for other people's points of view and the recognition that every person has an important contribution to make to the university community. The Respect campaign wants to get people to engage more robustly with these ideals. We want people to question their own attitudes and think about how they are interacting with their colleagues."
Hall said that the university is also serious about acting on what comes out of the campaign. He stressed that this is not about window dressing.
"We are committed to act on what comes out of this campaign and translate this back into action," he said.
The campaign will consist of a series of activities throughout 2007, ranging from rigorous debates and small, focused workshops to large public events. These will focus on the four key issues of 1) respect for cultural and religious diversity, 2) respect for individual rights, 3) the history of the institution and the land it is built on, and 4) UCT's institutional climate.
"We are bracing ourselves for a potentially difficult but exciting ride," says Hall. "We believe that the university as an institution will emerge stronger and better equipped to meet our exceptional development challenges, as well as able to continue to hold its own on the international stage." MP
---
This work is licensed under a Creative Commons Attribution-NoDerivatives 4.0 International License.
Please view the republishing articles page for more information.
---