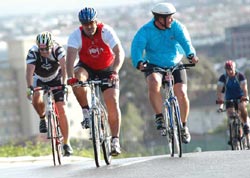 Is cycling a science?
This question was raised by Dutch academics recently, leading to a group of engineers and cycling practitioners from the Netherlands, India, Brazil and South Africa gathering for the first Cycling Academia Network (CAN) workshop, held at UCT in February.
The meeting was hosted by Dr Marianne Vanderschuren of UCT's Urban Transport Research Group (UTRG) and chaired by Professor Martin van Maarseveen of the University of Twente in the Netherlands. Participants discussed knowledge development and capacity building, and also identified research themes. In addition, they discussed the possibility of a young researchers' network.
Among the subjects singled out for research were poverty alleviation through improved mobility, environmental and health benefits, urban planning and governance - proof that cycling has come a long way.
"Given the prominence of cycling as a means of transport," said Vanderschuren, "cycling-related issues are researched by professional as well as academic bodies and have been the subject of academic articles in the Netherlands for some time."
According to Associate Professor Mark Zuidgeest of the International Institute for Geo-Information Science and Earth Observation, 50% of all Dutch make one bicycle trip each day. Cycling, Zuidgeest said, accounted for 28% of the average modal split and there were 22 000km of bike lanes in Holland.
The institute's Mark Brussel said that given his country's longstanding and elaborate experience with the activity, cycling is included in governance and policy-making processes, while engineering processes are far advanced.
"We've encountered issues others haven't encountered yet, and there are more bodies and organisations who deal with it academically. The different experiences that came together here, and especially working together, will mean that we will achieve better results," he said.
And although there are three continents represented, there are common experiences in the role cycling plays, said Associate Professor Geetam Tiwari, executive officer of the Bicycle Partnership Programme.
"In India, the role of cycling is already big. In Africa, however, we are certain of the potential that cycling has."
---
This work is licensed under a Creative Commons Attribution-NoDerivatives 4.0 International License.
Please view the republishing articles page for more information.
---