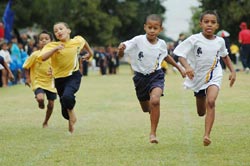 Running into trouble: With lifestyle diseases on the up in South Africa and elsewhere on the continent, many physical activity projects are targeting children, hoping to set the right patterns early.
As if the continent's burden of communicable diseases isn't bad enough, add lifestyle-based ailments to Africa's health woes.
Once upon a time there was a clear-cut division of diseases in the world - the well-heeled citizens of the First World suffered from conditions brought on by their affluent but couch-bound lifestyles (obesity, heart disease, hypertension, high cholesterol), while developing nations, such as those in Africa, were saddled with the world's communicable disease load (AIDS, tuberculosis, malaria, anything else you can think of).
But countries like South Africa, Brazil, Mexico, Malaysia and others are breaking the mould. Global and regional surveillance data suggest that 60% of men in South Africa, and 45% of women, are not getting the kind of physical exercise that bears health benefits.
In addition, alarm bells are beginning to go off about the growing epidemic of obesity and associated medical conditions among children. Here, again, South Africa is following in the footsteps of Europe and North America. And some of South Africa's immediate neighbours are wary that they could be next.
That may explain why some 45 delegates from seven African countries eagerly signed up for the International Physical Activity and Public Health Course for the African Region, held at the Sports Science Institute of South Africa in Newlands from 27 to 30 March. Over the four days, the delegates - representing government, the corporate and education sectors, health industries, academia and NGOs - discussed and debated the four pillars of the course: making a case for physical activity (it's the essential starting block); intervention strategies and best practices; planning and evaluating suitable programmes; and the must-haves for a national, even multinational, policy.
The International Physical Activity and Public Health Course is the brainchild of the Centres for Disease Control and Prevention in the US and the International Union of Health Promotion and Education. It was designed as a response to the booming burden of chronic diseases, and aims to develop regional capacity for health promotion through physical activity.
It also operates under a global mandate from the World Health Assembly's 2004 resolution on a Global Strategy for Diet, Physical Activity and Health.
The course was first run in North America, and was later offered throughout South America, Malaysia and China. Now, with the Cape Town workshop, Africa is also on the itinerary.
In South Africa, a host of initiatives are already in place, says Professor Vicki Lambert of the MRC/UCT Research Unit for Exercise Science and Sports Medicine (ESSM), the hosts for the event. The government's Vuka South Africa campaign and Youth Fitness and Wellness Charter are up and running (albeit with limited resources), as are countless corporate social investment programmes such as SuperSport's Let's Play, Woolworth's Making a Difference programme, as well as NGO-driven programmes such as Little Champs and the SSISA's own Community Health Intervention Programme (CHIPs).
These initiatives are huge steps in the right direction, but there is also a need for a common voice, and more by way of "inter- and intra-sectoral collaboration," says Lambert. This, she believes, will add gravitas and leverage to the message that Africa and South Africa, in particular, must act now.
The SSISA meeting can also help. So keen were they on the idea that 21 delegates volunteered to serve on a steering committee for an African network for physical activity and public health.
The group will have plenty to do, like spurring the authorities to action, and giving existing programmes a hand.
But there are success stories to take a cue from. In Colombia, a national project turned lacklustre Bogotá - in one study, 79.1% of respondents reported being inactive - into a city that encourages "active commuting" and "walkability".
As they're doing elsewhere across the globe, Africa could find it's an exercise well worth the effort.
---
This work is licensed under a Creative Commons Attribution-NoDerivatives 4.0 International License.
Please view the republishing articles page for more information.
---